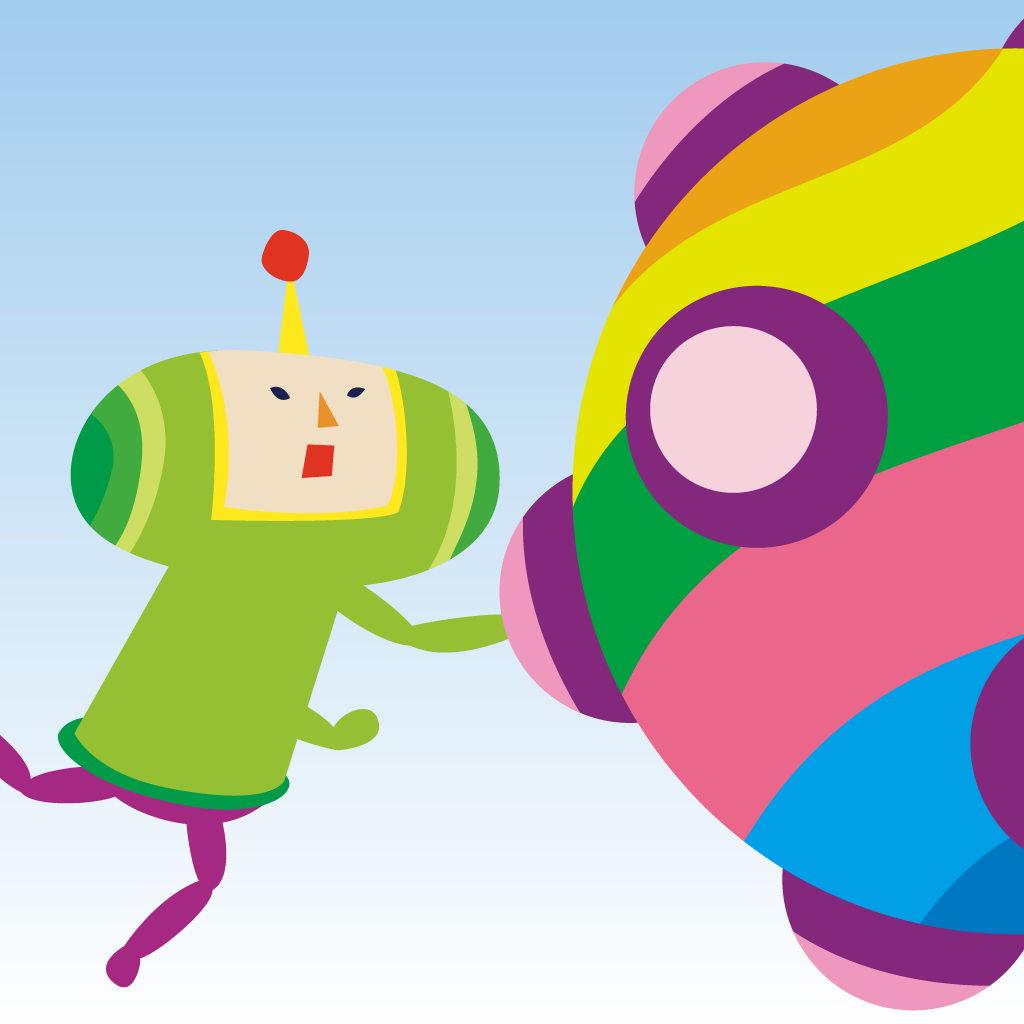 iPhone App
$4.99
Rating:
:: RECOMMENDED
i Love Katamari is a well done port of a game series that premiered on home consoles and was very successful there. The iPhone version doesn't seem to make very many compromises and looks and controls superbly. It offers numerous levels of challenging and
Developer:
Namco Networks America
Price: $7.99
Version Reviewed: 1.0.1
Graphics / Sound [rating:4]
Game Controls [rating:5]
iPhone Integration [rating:5]
User Interface [rating:4]
Re-use / Replay Value [rating:4]
Overall Rating:
In i Love Katamari you control the Prince, who is tasked by the King of All Cosmos to "roll up" objects in order to find a particular item and create a "fabuous" katamari. Throughout a number of levels, which are time based, you control the Prince by tilting the iPhone and moving him so the sticky ball he is pushing around picks up those objects.
A katamari is a sticky ball that can initially pick up very small objects but as the ball grows bigger, it can pick up increasingly bigger ones. You may, for example, start off picking up dominos and magic markers, but as the level progresses, pick up plungers, cats, dogs, people, cars, and even houses.
As mentioned, controlling the Prince is done by tilting the iPhone. There are touch controls for things like initiating running, performing a quick turn, and of course pausing or quiting the game, but the bulk of the movement will be performed by tilting the iPhone in all four directions. This allows you to very precisely control the Prince, and the author has done an excellent job of translating the controls from consoles to this petite platform.
There is a goal object for each level, and this is assigned to the Prince by The King of All Cosmos. The assignment is given in a very tongue in cheek manner, with the King very demanding and full of himself. New levels unlock as previous levels are cleared, but within each level you can play in several different modes:
Story Mode - You must find a specific object in the given time period.
Time Attack Mode - Create the largest katamari you can within the time limit.
Exact Size Challenge Mode - Try to create a katamari of a specific size.
Eternal Mode - This is a free form mode where you can just roll for as long as you want to.
[youtube VDOBeeLn27Y]
Each level takes place in one of several different environments. You will roll in houses, backyards, parks, and a couple of other places. These environments have very colorful graphics that are very blocky but stylized. The graphics are attractive but look quite dated compared to most modern games. They actually look just like the original Playstation 2 graphics! This isn't necessarily a bad thing, as the graphics back up the game play appropriately, but it is something to consider especially if you have played the series previously.
Namco's Katamari series was very successful on home consoles. While it may seem a little long in the tooth as a PS2 or Xbox 360 game now, i Love Katamari fits well on the iPhone. It makes very few compromises and looks and controls superbly. Finally, if the thought of rolling up common objects, including people and animals, sounds intriging to you, then you should give it a try.