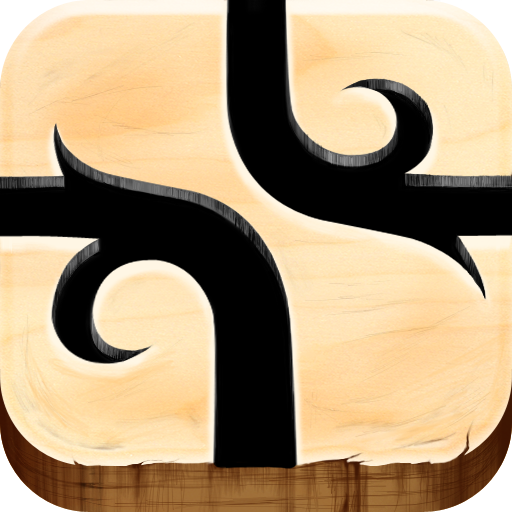 + Universal App
$3.99
Rating:
:: ADDICTIVE
Tile-based puzzling fun that's reminiscent of classic title Pipe Mania.
Developer:
Dreamfab
Price: $2.99
Version Reviewed: 1.0
Device Reviewed On: iPhone 4
Graphics / Sound
Rating:
Game Controls
Rating:
Gameplay
Rating:
Replay Value
Rating:
Overall Rating:
It takes a few moments to get one's head around
The Lost Shapes
. Maybe it's down to the very wordy tutorial or possibly it's just down to my increasing level of tiredness. Whatever the reason, once
The Lost Shapes
does click, its addictive element comes straight to the forefront. Reminiscent of
Pipe Mania
,
The Lost Shapes
is all about attaching relevant tiles together to form shapes and patterns. It's simple yet blissful fun, the kind of fun that can be played in short doses or extended sessions.
Two modes of play are on offer her, explained via a wizard called Willow amongst the backdrop of the art of Magic Chess. It's a strange plot admittedly but one with its own sense of charm. Shape Mode is the more puzzle like of the two modes. 30 levels are available in all, each requiring the player to construct a shape before moving onto the next pattern that's lit up on the board. At first, it's simple to create squares and other obvious shapes. As things progress, however, the shapes get more intricate and the experience more challenging. It's never
too
challenging though, always staying on the right side of fun. Construction must be done reasonably swiftly as new tiles come down a queue to the left hand side of the screen and if it reaches capacity, it is game over.
Survival Mode invokes this fast spirit even more so with, as the name suggests, surviving as long as possible being the name of the game (quite literally). It's more of the same really but with the freedom to create whatever shapes the player wishes. There's the added challenge of special tiles such as bomb tiles that blow up obstacles, and the less useful Locked tiles that can't be moved once placed. These all add to the experience and require some more careful planning.
The Lost Shapes is an excellent game to while away spare time, and time that should probably be spent elsewhere. There's enough variety between the two modes to keep players interested, while never deviating from the core purpose behind the game. An ideal casual delight.