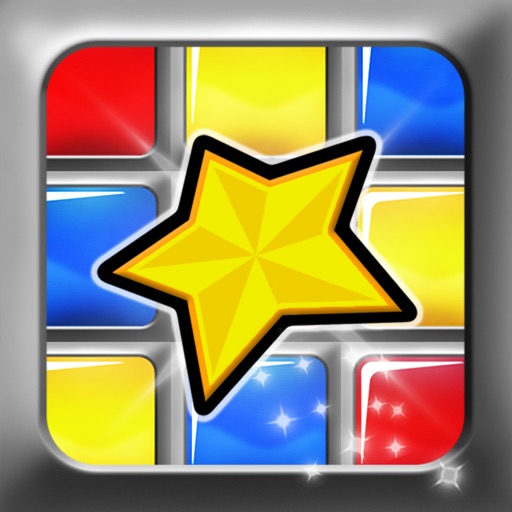 + Universal App
$0.99
Rating:
:: BRILLIANT
Ayopa serves up another great casual game.
Developer:
Ayopa Games
Price: $.99
Version Reviewed: 1.0
Device Reviewed On: iPad 2
Graphics / Sound
Rating:
Game Controls
Rating:
Gameplay
Rating:
Replay Value
Rating:
Overall Rating:
Remember original 
Tetris
? Like everyone I know, I spent years addicted to that classic arcade puzzler. There was something just perfect about the blend of quick thinking and quick reacting, with a simple compelling premise that sucked an entire generation into its thrall. Ever since I've been looking for a game that has the same ideal equilibrium and
Light Byte
, by Ayopa Games, is the closest I've come so far. Using a great-for-touchscreen control mechanic and the most basic color-matching premise,
Light Byte's
 blend of quick thinking and quicker tapping is habit forming.
Like Tetris colored blocks descend from the top of the screen, but they are all cubes and they descend row by row. Players are tasked with the simplest of objectives: match two or more like-colored blocks from the bottom row to remove them and keep the rest from hitting bottom.
The game starts slowly in Endless mode with only three colors and a snail's pace. Players quickly learn to create chains including blocks that will be freed earlier in the same move. Longer chains mean higher scores and when eight are linked it triggers Frenzy mode where the blocks turn blue and can be removed by tapping on them as quickly as possible for bonus points.
As blocks are knocked down they fill the level meter and once full it's level-up. There are also individual color meters on the bottom of the screen and filling them yields big bonus points.
The pace ramps up quickly, and power-ups that slow time, burn columns, or just go boom come into play. And so does the real puzzling element.
Light Byte
requires attention to everything on the board at once because columns fade out to black – usually at the worst possible moment. It's up to quick recall to keep the matches going and return the hues.
There are two additional locked modes with hefty entry fees. Five million points gains players access to the first of three Time Attack levels and Full Byte mode opens at a whopping 25 million. Of course, the extra modes can be unlocked through in-app purchases, and if one is the type to play five minutes and run, the variations add replay value and might be worth it. But, after spending the weekend obsessed, I'm averaging between 400,000-600,000 points a game, so I'm going for the hard way.
The graphics are simple and bright, with primary colors at the fore, and the controls are responsive to even the speediest fingers. There are also plenty of leaderboards and Game Center achievements to earn. All that's missing is iCloud syncing.
Light Byte may look like just another matching game, but the overt simplicity and the subtle layers of complexity mesh wonderful. Pick it up, but don't expect to put it down.