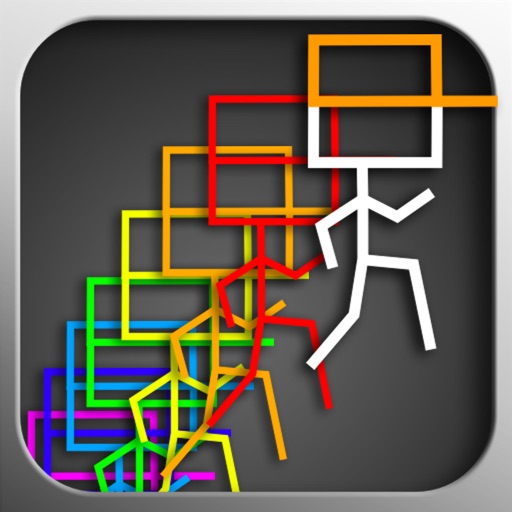 + Universal App
$2.99
Rating:
:: FOR ADULTS
Kid Vector is a trial platformer with a level of challenge that makes it squarely for those adult enough to take on the challenge.
Developer:
Uncade
Price: $1.99
Version Reviewed: 1.0
Device Reviewed On: iPad 2
Graphics / Sound
Rating:
Game Controls
Rating:
Gameplay
Rating:
Replay Value
Rating:
Overall Rating:
Do not be fooled by the name.
Kid Vector
is all grown-up, with old-school challenge designed to make players weep at the number of deaths they shall suffer. This is a trial-based platformer, where players have one goal: run and jump around levels and get to the end in one piece. There are plenty of hazards in the way: spikes, bottomless pits, and giant caterpillars, of course. It's not just about completion, as there are medals for collecting all the coins in a level, completing in under a certain time, and finding a hidden star.
Oh, Kid Vector starts out innocently enough. The first set of levels are there, lulling the player into a false sense of security. "Why, this game is quite a leisurely stroll in the park," one may think after the first few levels. I'm collecting coins, stars, and time clocks like a stamp collector collecting stamps. Suddenly the game seems rather short with just 15 levels. Then, the second set of levels comes in, and suddenly things get a lot more challenging. The coins are in more perilous places. The stars require jumps that seem downright impossible, and even getting to the end of a level proves to be a challenge. Don't even ask about the third set.
The vector style is simple, but is an effective look, used across the various games in Uncade's portfolio. However, some of the backgrounds can be very distracting. The levels are bigger and longer than a game like
League of Evil
while still being short. There are often multiple paths, and tricky platforming required to get stars, or to complete the level quickly enough to get there in time.The controls are basic with just horizontal movement buttons and a jump button. Now, the game does require some quick reaction times, but I never really felt like the controls were the reason for my failures. In fact, the control size and positioning options should ensure that they are comfortable for everyone. The game supports the iCade and while it's fun to play with, it doesn't make the game any easier!
The one thing I want to see more of from Kid Vector? More levels. Having more content would definitely be welcome. For fans of trial platformers and/or the vector style, this is worth checking out.