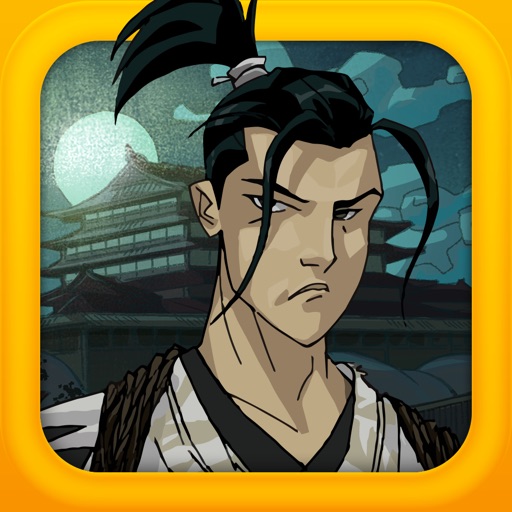 + Universal App
$1.99
Rating:
:: BRILLIANT BRAWLER
This is a retro remake that pulls no punches.
Developer:
Karateka LLC
Price: $2.99
Version: 1.0
App Reviewed on: iPad 2
Graphics / Sound
Rating:
Game Controls
Rating:
Gameplay
Rating:
Replay Value
Rating:
Overall Rating:
Great game designers don't just appear overnight; They had to start somewhere. Most gamers are probably familiar with the Jordan Mechner classic series,
Prince of Persia
. Folks may be a little less with his first commercial outing for the Apple II,
Karateka
. While extremely successful for the period, Mechner's freshmen outing didn't quite have the lasting impact of his later blockbuster. Twenty-eight years later, the title is now launching a comeback on iOS. Does it still have the power to impress a new audience, or should it have spent a bit more time in the dojo over the decades?
Crafted in an era long before Mario defined the cliché, Karateka follows the plight of a trio of lovesick martial arts masters, on a quest to free the female object of their affection from captivity. As they fight their way towards securing her potential freedom they encounters a wide swath of different enemy types of both the man and beast variety. Accordingly, each adversary has their own specific move sets and attack combinations.  This helps to keep the action fresh where the repetitive mechanics could have easily led to monotony.
When thinking about the combat in action games, I rarely think about the music genre. Though highly improbable, the
Karateka
manages to do just that, by melding attentive timing-based screen touches and beautifully rendered action sequences. Players must successfully time blocks based off of a series of "notes" shown on the top of the HUD. Following the layout of the "notes," it becomes easier to figure out the attack pattern of the adversaries.  Once a block has been rendered successful, then the player then has the ability to counter-attack and use the special move that is built up throughout battle.  Much like in the music genre, this is a system that is simple to execute, while both addicting and time-consuming to perfect.
What stands out most when playing through the game's rather brief runtime is the amount of beauty squeezed into every frame. Cell shaded cinematics give way to a fully rendered three dimensional environment that somehow has the ability to look both fresh and clean, while at the same time retaining a sort of classical Asian aesthetic. It is telling that even after completing a play through, it is hard to resist starting all over again, just to try and better a previous attempt.
The team over at Liquid Entertainment has somehow managed to breathe new life into a long dormant brand, with a game that feels sleek and modern, yet true to its retro roots. Karateka is a perfect way to bookend the end of iOS game releases in 2012 and usher in 2013 with a swift blow to head. Don't let the gorgeously stunning art style fool you either, because it actually manages to play EVEN BETTER than it looks.

[gallery]