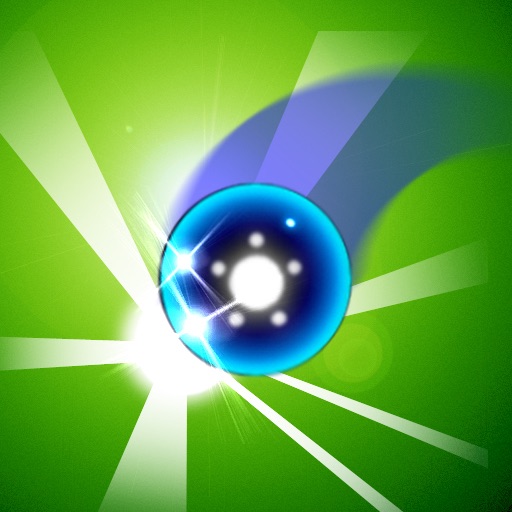 iPhone App
$0.99
Rating:
:: GREAT
Physics + puzzle = iPhyzzle. This challenging game's simplistic concept hides a devious interior, with gravity at its core. Nice visuals, added to gameplay value, complete the iPhyzzle armoury.
Developer:
KyungTu Han
Price: $2.99
Version Reviewed: 1.0
Graphics / Sound [rating:4/5]
Game Controls [rating:5/5]
Gameplay [rating:4/5]
iPhone Integration [rating:5/5]
Re-use / Replay Value [rating:5/5]
Overall Rating:
iPhyzzle is like a more sophisticated version of Bust-A-Move, mixed with a match 3 game, using realistic physics. Indeed, the developer describes iPhyzzle as a 'physics puzzle'.
The game works like this: bubbles appear at the launch point, and each can contain one or two symbols. Fire a bubble at the wall and it sticks, suspended on a line, like a spider hanging from a thread. Aim a few more bubbles and, if they strike each other, they become linked - soon a web of bubbles is made. If the symbols within each bubble form a chain of 3 then they disappear and your life bar increases. If your life bar reaches the maximum, the level is completed.
[img id="img_00054.png"]
Launching a bubble is simple: touch the screen where you want to aim, and hold down longer for greater power. Power is crucial, because a fast moving bubble can force its way through the first layer and connect at a deeper level. In this way, bubbles which seem out of bounds can sometimes be taken down.
Use of gravity is one of the more interesting features of this game. It's implemented excellently, and has a direct effect on gameplay - it's not just a pretty side effect. For example: match the symbols in three bubbles and they'll pop, allowing other bubbles to swing freely on their lines. If they swing enough those bubbles may connect and link up with others, possibly completing another threesome of symbols. In this way combos can be unleashed to great, level-completing effect.
There's something very visceral about the way the bubbles zing toward their targets, or the way they arc across the screen when you apply slightly less power. It's a lovely god-like feeling.
At first I thought iPhyzzle was going to be a simple game. Connect three symbols and the bubbles disappear, right? Wrong - the two symbols to a bubble approach complicates things. One symbol may disappear, but you're still left with the other symbol and a bubble blocking the way. iPhyzzle really is as much a puzzle game as it is a straight forward match 3 clone. It's challenging. If any of the bubbles drop out of the red-bordered scoring zone, your life bar is reduced. Pretty soon you've got bubbles dropping off, drinking life, and nowhere to put the next bubble. So you need to think and plan ahead.
The only minor glitch in iPhyzzle is its presentation. To be told 'Congratualations' when completing a level is a little odd. A simple spell-check would have solved this. But to mark down this game because of a spelling error would be churlish, and - in a way - it lends the game a hint of charm. This is a game that feels like it was fashioned by one man, harking back to the golden era of bedroom programmers.
Price-wise iPhyzzle is fair. $2.99 is well worth it for a game that amuses, and which offers an elegant control system married to a cunning challenge.
iPhyzzle stands its ground well amongst the glut of puzzle games on the iPhone. If you like your match-3 games to be challenging as well as fun, then iPhyzzle is for you.