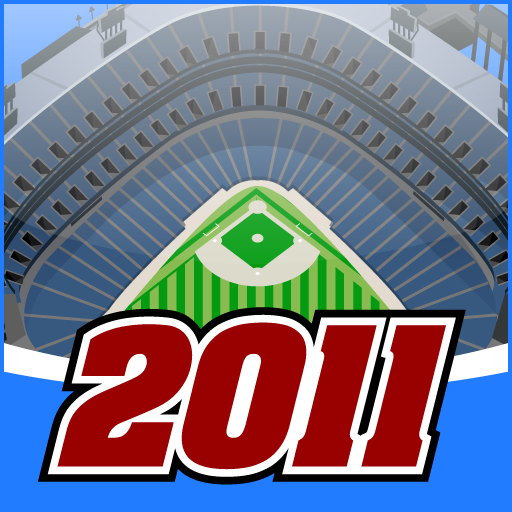 + Universal App
$0.99
Rating:
:: HOME RUN
iOOTP Baseball 2011 is a baseball simulator, giving players the ability to control a baseball team on both a managerial and general managerial level.
Developer:
Out of the Park Developments
Price: $4.99
Version Reviewed: 1.0
Device Reviewed On: iPod touch 4G
Graphics / Sound
Rating:
Game Controls
Rating:
Gameplay
Rating:
Replay Value
Rating:
Overall Rating:
iOOTP Baseball 2011 has finally been released for the iPhone and iPod touch.
As you read in my preview earlier
, this is not a simulation of playing baseball, this is a simulation of managing baseball and baseball teams, and is an entirely menu-based affair. The player has zero control over what the players do, there is only control over the command and transactions that the player makes in being the manager and general manager of the team.
The fun of iOOTP is in having control over a team, managing the games and its transactions. There is the ability to have influence over every at-bat, or to just simulate weeks at a time. This makes it possible to play either the daily grind of a season, or to control and see results over the long-term. There is the ability to play with multiple historical leagues, including the 2004 season where the Red Sox won the World Series. The game can be incredibly addictive, as I found myself playing the game over and over, playing and managing games on a daily basis. I even found myself getting confused between how my iOOTP version of the Texas Rangers were performing and how the actual team was doing, that's how engrossing the game is.
iOOTP's problem is largely with realism - there were a lot of little things I noticed. For example, a lot of my players felt like their stats were slightly out of whack. A lot of relief pitchers felt more wildly out of control than they would be in real life, especially on my Rangers. Also, transactions don't work as realistically as they do in real life - player can be called up to and from the major leagues without any kind of delay. While the minor league system is just a list of players in the minors, this is because having a full minor league system would require more RAM than the current iOS devices have, according to the developers. The menu system is often convoluted, and the stat/rating display views persist, without changing based on the position viewed, so if batting stats are displayed, then pitchers are viewed, the batting stats are still displayed. This a game chock-full of menus that can often be confusing to navigate, especially as there are menus tucked away under submenus, and it can be adventure navigating back to the screen you want. The app is also not enabled for the Retina Display yet.
iOOTP Baseball 2011 can often be convoluted, but I had tons of fun with it. As a huge baseball fan, I found myself engrossed and entirely addicted by the game. There could be a lot of work to improve the user interface, but that shouldn't deter other baseball fans from picking up and enjoy this game.
Update: iOOTP has gotten its first major update recently. The game now has support for a variety of past seasons available via in-app pruchase. Each season costs $0.99, with special bundles of seasons going for $4.99. As well, the game now has Game Center support for leaderboards of single season and all-time scores obtained at the end of each season. As well, it's now possible to set up the beginning of the game where entire teams can be drafted from the list of players, starting the league over entirely.