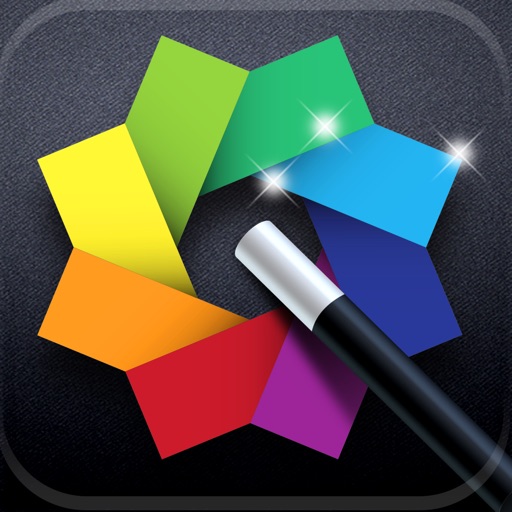 + Universal App
FREE!
Rating:
:: BASIC PHOTO EDITOR
iColorfulsoft Photo Editor provides users with unique editing features, but it does little to stand out from the abundant amount of photo editing apps available in the App Store.
Developer:
iColorfulsoft
Price: $0.99
Version: 1.2
App Reviewed on: iPhone 5
iOS Integration
Rating:
User Interface
Rating:
Re-use Value
Rating:
Overall Rating:
There are a plethora of photo editing apps available in the App Store because the iPhone's native camera doesn't have many editing options. While some Apple users are willing to shell out cash for these apps, others download all the free and cheap ones they can find to create a photo editing arsenal.
iColorfulsoft Photo Editor is an easy-to-use and currently cheap photo editing app that allows users to create stunning pictures with just a few taps on the screen. There are two ways to add a touch of magic to photos: edit and collage.
In the edit mode, users can select a photo from the Camera Roll or they can take a photo. Then it's time to select a feature from the bottom toolbar. Many of the tools are standard like Crop, Rotate, Photo Effect, and Text, but there are also other neat features like Fonts, Frames, and Decorations. There are plenty of fun effects to add like hilarious clipart, speech bubbles, and elegant frames. If users don't see something that they like, there is a "More" button that lets them download additional templates free of charge.
Collage lets users create a collage of up to nine photos. Tapping on the arrows to the left and right will rearrange the pictures, but users can also drag and drop the pictures freehand. There are many different templates and backgrounds to select and more can be downloaded with ease.
At any time users can visit the materials section of the app to browse different templates like frames, effects, and text that can be downloaded to the app. Once pictures or collages are finished,
iColorfulsoft Photo Editor
makes it possible to save and share them on other apps such as Facebook, Twitter, and
WeChat
.
iColorfulsoft Photo Editor provides plenty of features, but its basic functionality may not be for everyone. It's a bare-bones photo filter app that doesn't do as much as its competitors. Anyone looking for an app with capabilities like Photoshop will be disappointed as there is no way to adjust the position of effects or the strength.
While iColorfulsoft Photo Editor isn't as advanced as other photo apps, it shouldn't be completely dismissed. There are tons of templates, effects and frames that are included in the app, and there aren't any hidden in-app purchases—which is more than most basic photo editing apps offer. Since it's currently less than a buck to download, anyone without a photo editing app should definitely explore this one.