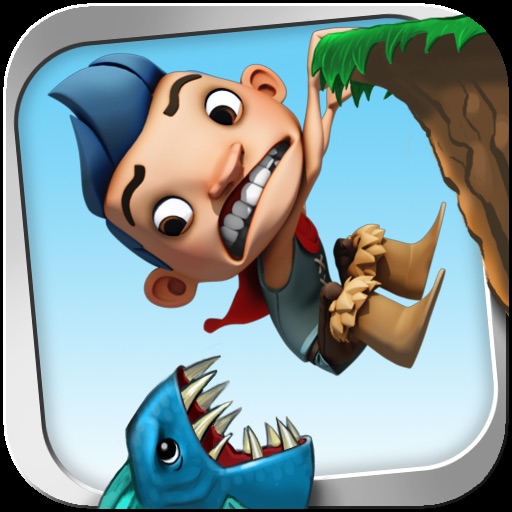 + Universal App
$0.99
Rating:
:: FANTASTIC
This Could Hurt is a one-button puzzler with a cartoony theme.
Developer:
Chillingo
Price: $0.99
Version Reviewed: 1.0
Device Reviewed On: iPad (third generation)
Graphics / Sound
Rating:
Game Controls
Rating:
Gameplay
Rating:
Replay Value
Rating:
Overall Rating:
This Could Hurt
is a one-button puzzle game with some great art and entertaining gameplay. It's one of my favorite puzzles games from recent months.
Players work their way through levels with various obstacles in a few different themed level sets. Gameplay is incredibly simple and takes the same one-button strategy that successful Jetpack Joyride did - tap anywhere on the screen to use the games one button. In this case, pressing the button makes the character stop. When the player let's go, the character continues moving. While the controls are simple, the game isn't. The puzzles are challenging and fun.
Players can earn one of three badges at the end of the level: precision (taking no damage), speedy (a set amount of time), and fantastic (a score composite of the two). I don't like that the "speedy" badge can be obtained so easily by just running through a level and constantly taking hits. I think the badge should only be obtainable if you only take a certain percentage of damage or take none at all. That would make it a much more challenging and worthwhile badge to obtain.
The game also has various powerups that are discovered throughout the game. Players use acorns that they earn throughout the levels to use the powerups. Of course, players can buy more acorns with in-app purchases. But I used plenty of power-ups with the acorns I earned in the game.
The art in the game reminds me a bit of
Ocarina of Time
, though I'm not exactly sure why. The forest theme for the first set of puzzles just reminds me of the starting area and the Great Deku tree. There's also ruins, snow, and lava-themed puzzle worlds.
The game can be incredibly frustrating at times. Sometimes, the way the levels set up aren't apparent (quite frequently, really...). When that happens, there's almost no way to finish a level the first time or sometimes even second time through. Players need to test the level with some trial and error to memorize it and figure out the best way to go through it. I don't think puzzles should be made that way. The best way to remedy this would be for players to be able to zoom out and preview the puzzle map and see what all of the obstacles do and on what timers.
Yes, I got frustrated with the game. But aren't all good puzzle games frustrating at times? This is one of the better puzzle games that's been realized on iOS in a while. Check This Could Hurt out.