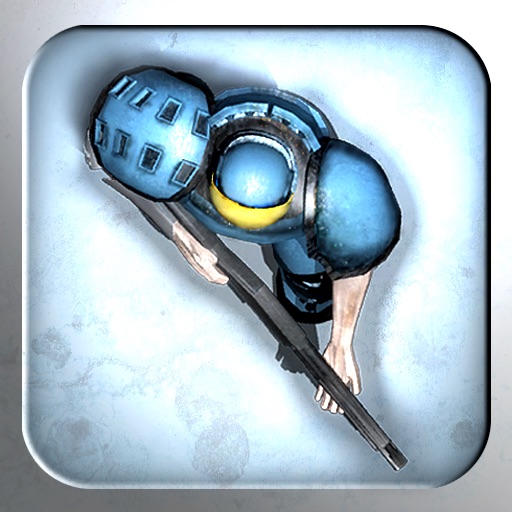 iPhone App
$4.99
Rating:
:: SOLID FIRST TRY
Rodeo Games has provided gamers with a solid reason to give tactical RPGs on iOS a chance.
Developer:
Rodeo Games
Price: Free + Microtransactions
Version: 1.03
App Reviewed on: iPhone 4
Graphics / Sound
Rating:
Game Controls
Rating:
Gameplay
Rating:
Replay Value
Rating:
Overall Rating:
If there were a genre of game that seems a perfect fit for the iOS platform it would have to be turn-based tactical role playing games.  When you meld that perfect style of touch interaction with a science fiction based universe it would be hard to argue that the developers are not onto something that could be very successful, not to mention lucrative.  Commanding a rag-tag group of mercenaries in battles across the galaxy sounds right in the wheelhouse of other established games, so can Hunters: Episode One stand out in the crowd?
Taking place at the close of the third millennia, the galaxy has been thrown into disarray by lack of any form of central government.  Corporations have taken control of regions and fight skirmishes amongst each other, using mercenaries as a proxy for their conflict.  Players are placed in the role of commander, tasked with tactically managing their troops to victory.  Micromanagement is the key to success, so be ready to indulge your inner Patton.
Moving  troops, fending off attack and bringing the battle to the enemy is all controlled using standard screen touches and finger slides.  Navigating the grid of warfare is a breeze on the iPhone and could only be made easier with the extra real estate afforded by an iPad, making this an ideal way to play tactical RPGs.  Also working in the game's favor are the turn based structure that makes it a perfect pick-up-and-play title, that can still be easily put down after a couple of quick turns.
One standout new feature that makes Hunters: Episode One worth coming back to is the persistent leveling system and dynamically generated challenges.  Each day new tasks are generated for the player, making the game both infinitely replayable and immensely satisfying.  Knowing that you have something  new awaiting every time it is opened will keep players coming back day after day.
A final item working in the title's favor is the stylistic top-down visuals that won't overwhelm, but are certainly no slouch either.  Though a simple sprite based system like this has been employed by the likes of developers such as Square Enix, Rodeo Games has gone above and beyond to give the game a style all of its own.  As long as no one goes in expecting a platform showpiece, players should be pleasantly surprised at what they will find.
Hunters: Episode One is a promising first installment in a franchise that will hopefully see a long and prosperous life on the iOS.  These are the kinds of titles that can set the platform apart as one of the truly unique experiences in gaming.  It is definitely well worth a look, especially when you consider that the base game is actually free.


[gallery]