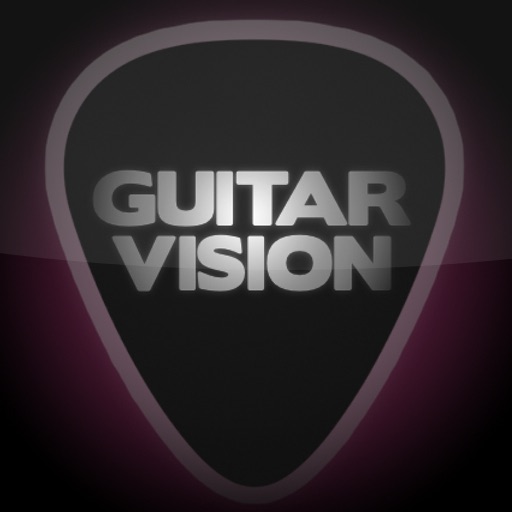 + Universal App
$2.99
Rating:
:: FREE TABS
With the potential to save guitar enthusiasts a few bucks from having to buy tab sheets, Guitar Vision employs a polyphonic pitch detection technology to display chords in realtime.
Developer:
Jam Origin
Price: $2.99
Version: 1.15
App Reviewed on: iPhone 4
iPhone Integration
Rating:
User Interface
Rating:
Re-use / Replay Value
Rating:
Overall Rating:
Guitar Vision
is a tool for music enthusiasts who are looking to deconstruct their favorite songs down into simple chords that are played back in realtime. This is done through a patent pending polyphonic pitch detection technology that analyzes a song and then displays the guitar notation.
To get started the user must sync their iTunes library with their Apple device. Once completed, the user must open the app and when they do the songs are automatically added to Guitar Vision. The layout of the app is very easy to navigate. In fact, it's so simple that one might think there should be more to it, but there isn't and there's only one screen that is necessary. The pick a song screen allows the user to select a track by artist, song or by searching. It's that simple.
Once the user selects a track, they need only to tap it and they're brought to the analyzing screen. Here, there is a virtual fretboard, status bar, playback button and tempo option. The song will automatically begin and as it plays the chords will be displayed at the top just above the fretboard. The only issue I ran into is as the song is analyzing there was some jittery playback. However, once it was fully analyzed, I could start the song and it played smoothly all the way through.
A really great feature was the tempo option. This allows for slowing down the song so that the user can get used to fingering the chords. It's especially helpful when it's a fast song with lots of chords.
Guitar Vision and its polyphonic pitch detection technology has a lot of potential. It works just like it says it does and is able to separate rhythm and lead guitar tracks out of any song in the user's library. This is a very useful option for anyone wanting to learn their favorite songs.