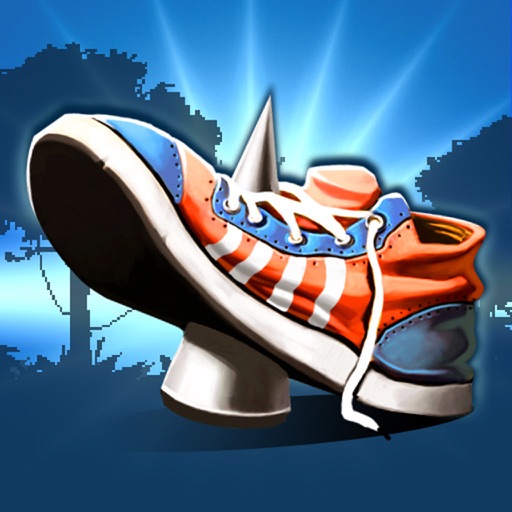 + Universal App
$3.99
Rating:
:: CALORIE BURN
Grim Joggers isn't the best entry into the endless running genre, but it is much better than I was expecting. Expect a few chuckles.
Developer:
10tons Ltd.
Price: $0.99
Version Reviewed: 1.1.0
Graphics / Sound
Rating:
Game Controls
Rating:
Gameplay
Rating:
Re-use / Replay Value
Rating:
Overall Rating:
For most, there is really no need to own any endless running game other than Canabalt. It has slick graphics, great gameplay mechanics, and a huge community of people trying to jump on that top score. Gamers looking for something a bit different will find a slightly funkier experience in Solipskier, another great looking, great playing game with a great community. If you really, really love the endless running genre, Grim Joggers may just be the game for you.
Grim Joggers is an endless running game that has you running a team of people through trails of certain death. The controls are quite simple; you are in control of the first person in the jogging line and all you can do is jump and double jump over obstacles and traps. Like every other game in the genre, the further your little runners go, the faster the speed of the game goes, eventually culminating in the tragic death of everyone in your squad. The further along you get in the game the more calories you burn (points), and the more people you keep alive in your group the higher your multiplier. Each level (there are four as of now) additionally has its own unlockable achievements, most of which involve lasting a long time or killing your people off in innovative ways.
The charm of Grim Joggers comes with its retro interface. The little joggers all graphically look like they are somewhere between the NES and the SNES, and the sound effects and upbeat theme music really set the mood well. It's not as pretty or as well animated as Canabalt, but for a lighthearted endless runner, Grim Joggers does quite well. Be sure to pick it up if you are a die-hard genre fan or just looking for something to remind you of Lemmings. You won't regret it.