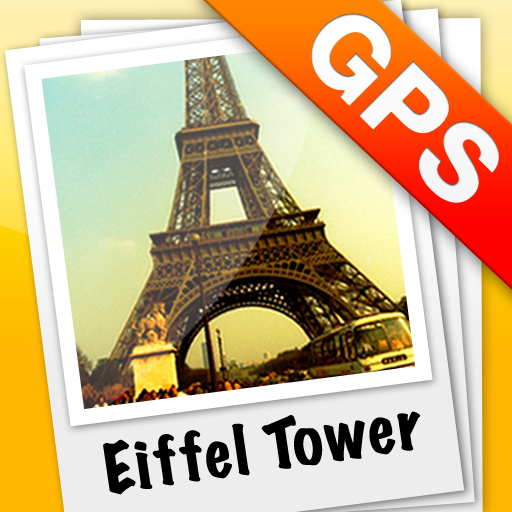 iPhone App
FREE!
Rating:
:: RECOMMENDED
GPS Photorino is an alright picture app. It's main feature is labeling your location on a picture frame. If you're always taking pictures on the iPhone and want an easy on-the-spot way to customize them, go for it.
Developer:
Imagebakery
Price: $1.99
Version Reviewed: 1.1
Controls [rating:5/5]
Usefulness [rating:3/5]
iPhone Integration [rating:4/5]
User Interface [rating:4/5]
Re-use Value [rating:3/5]
Overall Rating:
An intuitive app is important to me. I don't like reading directions and learning all the features. It's a phone app, people, let's make it simple. GPS Photorino is a simple and intuitive picture app. Take a photo, or select one from your Library, select a frame, let GPS Photorino do its locating work, and voilá! There's your customized picture.
Upon starting the app you're presented with a shiny, jolly, candy-like button which prompts you to take a picture. Once the photo is taken your location, date, and time are filled in the frame. Swipe your finger across the picture to choose a new frame and theme.
Likes
GPS Photorino is a cute app. It's nice to customize your picture with a snazzy frame and the text editing is great. You may not always a literal location like 'I-17 & Union Hills on the photo so Photorino lets you customize the text by clicking on the 'Edit Text' button.
While, this isn't an everyday application for me because I just like to shoot occasional pictures, I do find it useful when it comes to catching cute pictures of my kids. The appeal of this app is being able to put together a quick, memorable picture to send to friends and family, or just to create a neat wallpaper for the iPhone. The themes are professional and good looking and the right one adds a nice touch to any picture.
What I'd Like to See
I'd like to see the ability for more customization. There are only 13 themes to choose from, so it left me wanting when trying to find an appropriate theme a couple of times. It would also be nice to see a few more options with editing font size and or layers on the themes to add different elements.
Summary
There are more features coming in 1.2 as advertised on the App Store, and the developer seems very active with this app. In spite of its shortcomings, the app is rating very well on the App Store and I'm sure as it matures it will be a must have. Personally, I would wait and see what's in the next update before plunking down $2. Otherwise, if you take lots of iPhone pictures and want to customize them easily, this is the way to go.
GPS Photorino, iPhone App from Imagebakery on Vimeo.