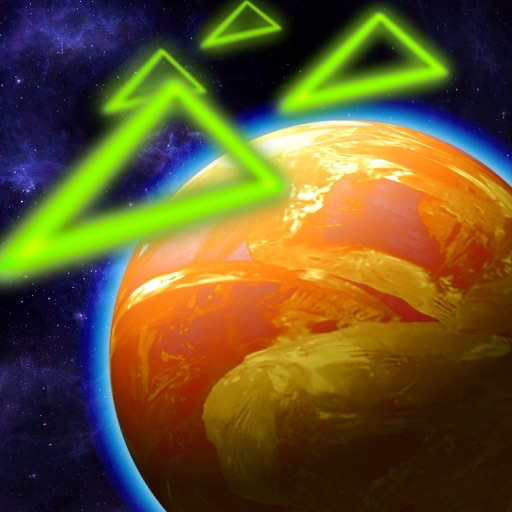 iPhone App
$1.99
Rating:
:: HIGHLY RECOMMENDED
Galcon is an excellent space-themed strategy game that requires lightning-quick decisions and delivers some great gameplay. Definitely a must-have!
Developer:
Hassey Enterprises, Inc.
Price: 4.99 (sale for 1.99)
Version Reviewed: 1.4
Graphics / Sound [rating:3/5]
Game Controls [rating:5/5]
Gameplay [rating:4.5/5]
iPhone Integration [rating:4/5]
User Interface [rating:3.5/5]
Re-use / Replay Value [rating:4/5]
Overall Rating:

If you've ever wanted to conquer the galaxy, you might want to take a look at Galcon. It's a fast-paced mixture of an arcade and a strategy game, in which you have to attack, seize, and defend planets while crushing your opponent's forces. The game moves quickly (often brutally!) and it quickly escalates into a fierce battle for galactic domination.
At the beginning of each round, you control a single planet (the green one). Gray planets are neutral, and otherwise-colored planets belong to your cunning enemy. When you tap on a green planet and drag over to another planet, a portion of your forces flow in that direction. A glowing number in the bottom-right determines that portion, it starts at 50%, but tapping it changes it to 25%, 75%, or 100%. Each planet has a number on it, representing the number of ships; you'll need to send that many ships over in order to conquer it. Each planet can produce ships too the bigger the planet, the more it produces, which adds another element of strategy to the game.
Galcon is simple to learn, but there are a near-endless number of variations. Besides your usual variations in difficulty, there are the modes: Stealth, in which the enemy fleet is hidden; Vacuum, in which you have a time limit; and Beast, in which you're brutally outnumbered. You can also have a three-way battle or play against someone else online, so it never gets old or too easy.
The graphics aren't the greatest, but they're fine for a game like this. The same goes for the audio. As far as the interface, I really wish that the settings were kept in-game, not the Settings app, and the Help file could use some info on game modes other than Vacuum and Stealth. Still, the presentation is adequate, and it serves its purpose just fine.
In fact, my only complaint about Galcon is its simple graphics, and I don't even mind them that much. This game had me hooked from the first time I picked it up. It's brilliantly simple, but with evolving AIs, random maps, and a plethora of variations, it's a very satisfying game. Galcon took a well-deserved win for Innovation in Mobile Game Design at the Independent Gaming Festival Mobile Awards, and its current price is nothing short of scandalous. To all of you aspiring conquerors: get this game. Now.