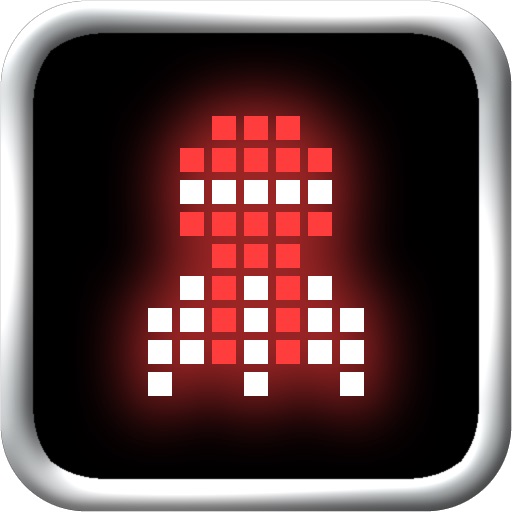 + Universal App
$0.99
Rating:
:: RETRO LOVE
This colorful classic arcade throwback if full of pixelated nostalgia that players can blow to tiny little bits.
Developer:
Binary Square, Inc.
Price: $0.99
Version Reviewed: 1.0
Device Reviewed On: iPhone 3GS
Graphics / Sound
Rating:
Game Controls
Rating:
Gameplay
Rating:
Replay Value
Rating:
Overall Rating:
This day in age, the mashup is ubiquitous -- in no small part thanks to a popular little high school chorus show that won't be mentioned here -- and the blending of artists, genres, and musical styles can often produce something really unexpected. Flick Rocket is a mashup of a completely different flavor, but the same effect applies.
Flick Rocket is basically a missile defense game where the player flicks their finger along the device's screen in the direction they want to send their missiles. Using these missiles, players must protect their city below from descending waves of enemies and enemy fire. What really sets Flick Rocket apart is the eclectic mashup of retro arcade enemies that fill out the ranks of the opposing forces. Players will encounter enemies inspired by classic titles like Space Invaders, Centipede, and Asteroids. All these enemies attack differently and react differently to the player's missiles, making them more than just palette swaps.
The game has several modes including an arcade mode where each wave is a different enemy type, and a campaign mode where each level is a different city with a different enemy type. There is also another unrevealed game mode that is still in development along with 7 additional campaign levels to augment the game three existing levels. The gameplay unfolds much like any other missile defense game. Enemies descend from the top of the screen and the player launches missiles to destroy them before they can destroy the buildings below. There are random power-ups like barriers and time-freezers that change the gameplay up a bit now and then.
Sticking with the retro theme, the game's visuals are lovingly crafted in super-saturated neon 8-bit renderings, making the game feel like the world's loudest, brightest 80's arcade is crammed into your iOS device. The retro nostalgic won't want to miss this one.