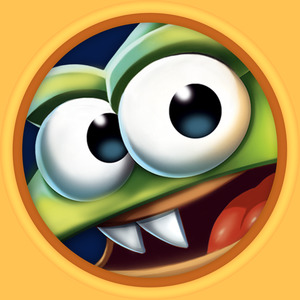 + Universal & Apple Watch App
FREE!
Rating:
:: FIENDISH FUN
Though light on innovation, Best Fiends is still a slug-squashing good time.
Developer:
Seriously
Price: FREE
Version Reviewed: 1.0.3
App Reviewed on: iPhone 5
Graphics / Sound
Rating:
Gameplay
Rating:
Playtime
Rating:
Replay Value
Rating:
Overall Rating:
With recent incidents of brown recluse spiders invading homes [Editor's NOPE], and masses of killer bees stinging people to death, nobody is currently in the mood to give bugs the time of day. But we need to remember some bugs are OK dudes. Some bugs fight for what's right. That includes the tiny cast of Best Fiends, a puzzle game from Seriously.
Best Fiends is set in the world of Minutia, a peaceful place where bugs co-exist with slugs. One day a mysterious meteor slams into the volcanic area of Mount Boom, and transforms the slugs living there into voracious, mindless eaters. When the slugs go on a kidnapping spree, a group of insects calling themselves the Best Fiends rally together and take the fight to every corner of Minutia.
Best Fiends is a match-three/battle game. Players meet and command a group of adorable bugs (nobody would mind seeing these guys scurry down their wall at three in the morning) by matching up three or more colored game pieces.
When a match is made, the relevant bug makes their attack on the slug staring them down. Temper, a mite, strikes when three or more leaves are matched up. Brittle, a housefly, goes to town when mushrooms are matched. Kwincy, a spider, springs into action when flowers are connected. And so on.
Successfully clearing each stage of Best Fiends means meeting certain conditions. Players may be required to zap a certain number of slugs, or they may need to match-up a certain number of game pieces, or they may need to meet multiple goals in a single stage.
All told, Best Fiends isn't much different from many of the match-three/battle games currently available. That's not to suggest it's meritless, though. In fact, Best Fiends is well-polished, super-cute, and super-addictive. Let's face it, match-three/battle games wouldn't dominate the digital marketplace if they weren't enduringly fun.
Best Fiends doesn't try to present wildly innovative ideas. It just tries to be a solid, satisfying game with some adorable visuals. It certainly gobbles up the player's time. At any rate, it's enough to make anyone forget they're fraternizing with bugs. That speaks well for the experience.