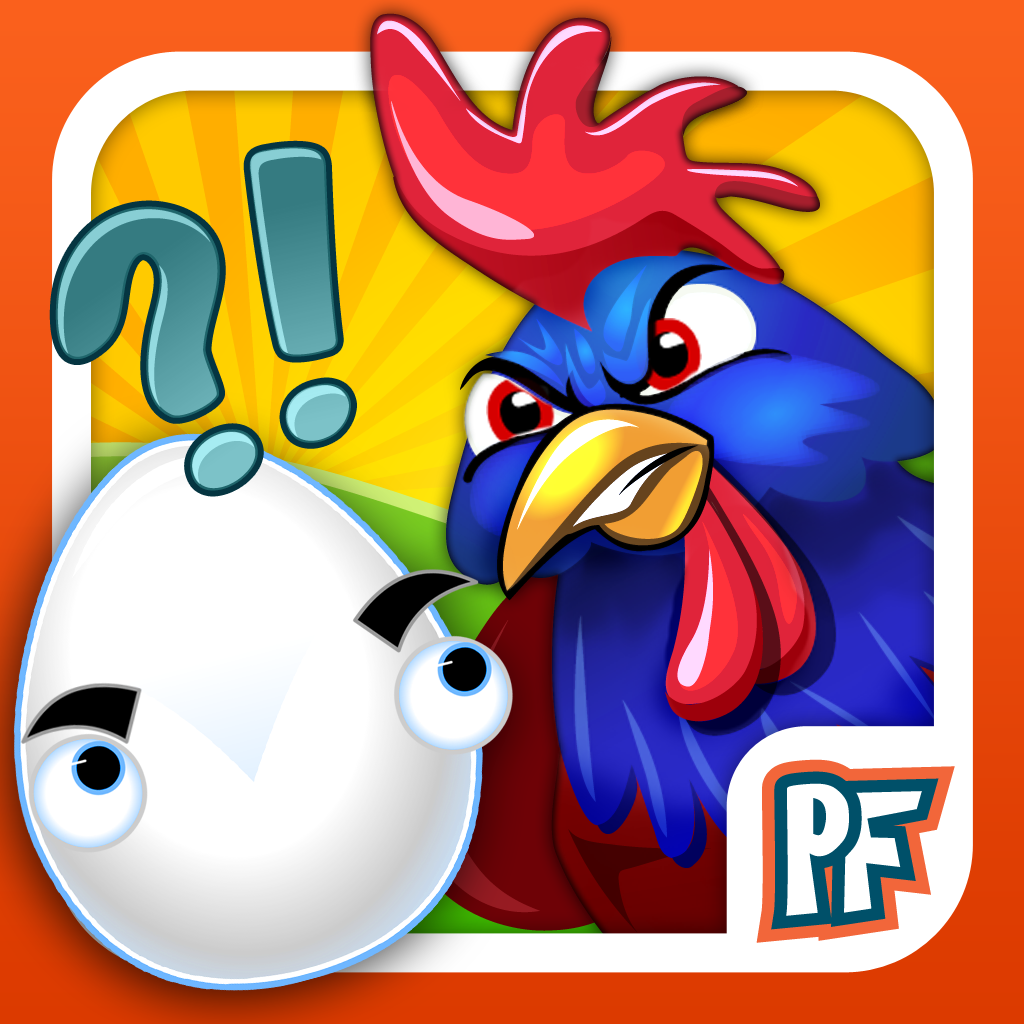 + Universal App
FREE!
Rating:
:: FANTASTIC
Egg vs. Chicken combines match three mechanics with tower defense gameplay. It's a fantastic combination.
Developer:
PlayFirst
Price: $0.99
Version Reviewed: 1.0
Device Reviewed On: iPhone 4
Graphics / Sound
Rating:
Game Controls
Rating:
Gameplay
Rating:
Replay Value
Rating:
Overall Rating:
I should have written this over an hour ago. I didn't though. I was too busy trying to get all three stars on each level of Egg vs. Chicken. This sums up exactly what needs to be said about Egg vs. Chicken. Can I go back to it now and assume you'll just purchase it? Oh. OK then, I'll tell you all about it then you'd better promise to buy it.
Egg vs. Chicken is a match three title crossed with tower defense. Both genres that have been done countless times before and indeed, Egg vs. Chicken doesn't strictly revolutionise but there's certainly evolution here. You have to fling eggs at chickens to stop them penetrating the eggs' fort. To do this you have to line up eggs in groups of 3 or more before tapping them to throw them in a straight line at the chickens. The eggs aren't all the same though. In the first few stages, there are white and brown eggs to contend with. As the levels progress though, along come more powerful fire based eggs and more elementally powered ones such as ice and lightning. These come in handy when the chickens themselves become more powerful too, moving up from humble chicks to roosters and hens, each of which requiring more eggs to be thrown at them.
It's a great concept and it works extremely well. The eggs slide across the bottom half of the screen so there's strategy involved just to line them up appropriately. Cones get in the way to sometimes hinder but sometimes aid you too, blocking off certain pathways. Gaining stars at the end of each level can be used to buy bonus items to help you such as hay bales to restore the bales that your foes attempt to destroy, and mines to blow up the chicken hordes. They help hugely especially in later levels where things get increasingly busy.
With three dozen levels in all, there's a lot to do here, even more so if you want to perfect each level gaining all three stars. There's also Game Center support to compare high scores with. Ultimately though, you'll be too busy having fun to care too much about other players' scores.
Egg vs. Chicken is one of those rare gems that I have to encourage as many people as possible to buy. It's cute, it's easy to play and it entices you into playing for much much longer than you'd envisage. It could well be the next Plants vs. Zombies or Angry Birds. It certainly deserves to be.