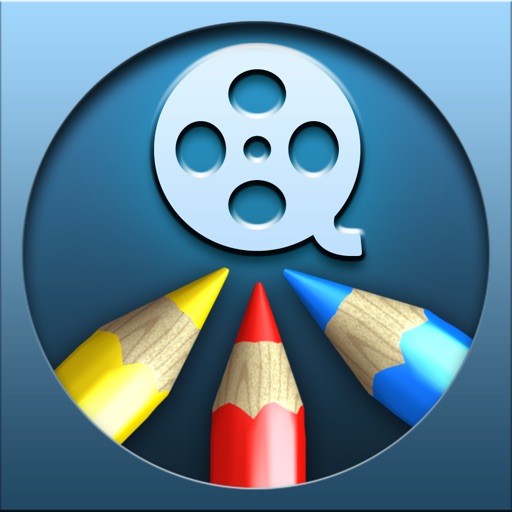 + Universal App
$1.99
Rating:
:: JUST FOR FUN
This fun drawing app automatically saves a time-lapse photo of you drawing your picture to share with friends. Simple but fun.
Developer:
Anton Gregorn
Price: $1.99
Version: 1.0
iPhone Integration
Rating:
User Interface
Rating:
Re-use / Replay Value
Rating:
Overall Rating:
If you're looking for a fun coloring app that offers the unique ability to automatically save a time-lapse screenshot of your drawing process, then this is exactly what Draw-N-Show does! It might not be the most robust drawing app for artists, but it's the perfect app for some fun with both time-lapse and stop-motion of drawing, offering real-time video encoding.
While it looks very much like a kids drawing app, you'll quickly discover it has some great basic features for drawing fun cartoon style drawings. If you're looking to create detailed works of art, you might want to look into getting a more high-quality app but you'll have to save your video screen shot separately to share your process with the world. Draw-N-Show combines the ability to record while you're drawing, and instantly saves to your camera roll.
Going through each of the controls with the Information key on is vital to start. You're going to find that there are two different drawing styles, in addition to the brushes options. Reading the instructions on how to record is important too, since you have a few different options, such as the ability to add stop-motion frames.
One aspect that I found just a bit frustrating, even after reading through the instructions, was that the toolbar menu automatically minimizes while recording, so switching brush sizes, intensity or pausing and taking stop-motion frames was an added extra step that I found distracting and a bit difficult. While all the features that you'll need are definitely included, the UI is just a bit difficult to navigate, and I would have preferred a stationary tool bar. Also, the options for backgrounds are limited, and there's no blank selection.
The no-fuss approach to creating a screenshot video of you while you draw is still very well done. If I had the ability to add background music to my video, or upload to YouTube from within the app it would make things slightly easier, but not necessarily required since you can do both of these things with the free YouTube app. Plus, I very much enjoy that I have the option to manually add the video to an email, or any Twitter or Facebook uploading app I might use.
Colorful, simple and fun. You might have a blast drawing and sharing video messages with your friends quite a bit. Check out one of the example videos from the developer below.