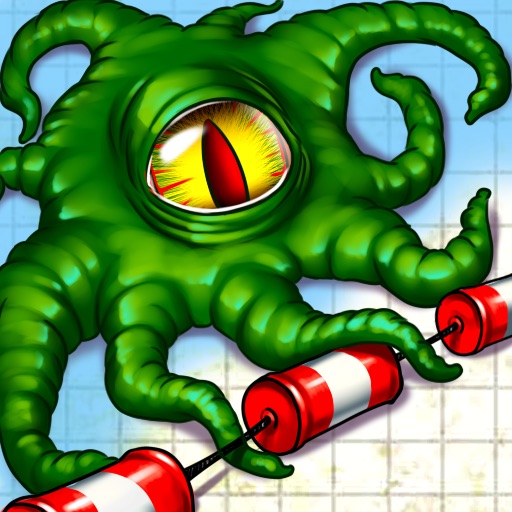 iPhone App
$0.99
Rating:
:: SHALLOW FUN
Doodle Invasion is the kind of line drawing game you'll drop into when you need something to entertain you on your commute, but it is a little shallow.
Developer:
Clickgamer
Price: $0.99
Version Reviewed: 1.0
Device Reviewed On: iPhone 4
Graphics / Sound
Rating:
Game Controls
Rating:
Gameplay
Rating:
Replay Value
Rating:
Overall Rating:
Just how many games are there with the word Doodle thrown in? It must be a good few hundred by now. So we come to another one, Doodle Invasion. It might not have as spot on presentation as Doodle Jump, looking much simpler but it is rather good fun, at least in short doses.
It's quick to get to grips with. You have to stop various alien invaders landing at Doodle Bay and presumably destroying the world. To do this you have to draw sea breaker markings across the screen in order to funnel the alien invaders towards the ships who can then destroy them. The catch here is that you can only draw one breaker at a time so a careful approach is sometimes needed. It's sometimes a little frantic but never in a stressful way.
Besides the regular invaders, a series of other creatures regularly attempt to invade. Many of these simply need a tap of a finger but it does get harder to keep track of. There are aids around though, such as warships that can fire missiles at aliens and a helicopter that fires a barrage of missiles.
It's simple looking stuff but it's also fairly imaginative. As you'd expect from any doodle based title, Doodle Invasion feels like you're playing a game based on pen and paper drawings that someone's created in an idle moment. Not in a meaningless sort of way but in an endearing manner that makes the game that little more interesting to play. It's fun seeing someone's imagination run wild on the screen.
Crystal integration is there with leaderboards and achievements but it would have been preferable to have something like Game Center or OpenFeint, which seems to be more commonly used by other titles.
Despite this minor niggle which is arguably more down to personal preference than anything else, Doodle Invasion isn't bad at all. It's perhaps not as gripping as it would like to be. After a while you'll tire of the lack of progression other than simply beating your high score and feeling smug. It's clearly a shallow game, however this is what helps make it an entertaining enough romp while on your daily commute. For less than a price of a cup of coffee, that's not bad at all.