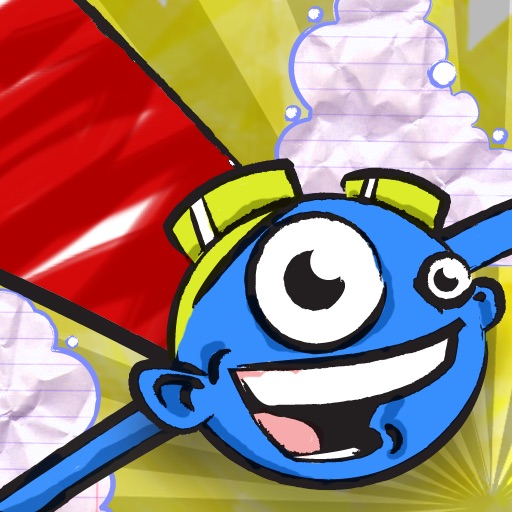 iPhone App
FREE!
Rating:
:: NOT TAKING A DIVE
Doodle Dive may not win any points for originality, but it does a good job at being a fun endless vertical 'platformer' regardless.
Developer:
Romper Games
Price: $0.99
Version Reviewed: 1.0.1
Device Reviewed On: iPhone 3G
Graphics / Sound
Rating:
Game Controls
Rating:
Gameplay
Rating:
Replay Value
Rating:
Overall Rating:
Doodle Dive turns the concept of doodle games and vertical platformers on its head, literally. Instead of trying to ascend as far into the heavens as you can, here you're trying to make the caped blue protagonist Doodle Dave descend as far as possible, avoiding enemies and picking up items in the process. There are collectible blocks that grant you an extra life for every 100 that you collect, and powerups that let you smash enemies or slow your descent to let you easily collect more blocks.
The game controls very well with the accelerometer even at default sensitivity settings, which is surprising considering the game requires you to move both horizontally and vertically as you descend, giving you more options to avoid the obstacles that come along than other endless games. This 2 dimensional movement makes the game play much differently than other endless vertical games. While doodle art style games are starting to become cliche and overused on the App Store, Doodle Dive at least is very colorful with its doodles, and the game features tons of references to other iOS games and pop culture phenomena that are present as obstacles that fly past you. The game also is set up in a unique way in that it starts you out with one life, but you soon can pick up extra lives as you start to learn how to survive at the beginning as you get acclimated to the game.
However, the doodle art style is becoming overplayed, and endless vertical "platformers" are hardly fresh either, so despite Doodle Dive's attempts to provide its own twists, it still feels a bit derivative at times. The game does have OpenFeint implemented, but there's no hint of it unless you click the "Online" button. While OpenFeint usage by players is often low, hiding it from even seasoned users is a mistake, as there are cool features like the ability to see who's next on the global leaderboard as you cross into the top 25 scores that are otherwise hidden from view behind an ambiguous "Online" button.
Doodle Dive may not be the most original game on the App Store, but it does a good job at differentiating itself slightly from the other doodle-style endless games that have come along, and isn't a bad fix for those looking for something new in a crowded genre.