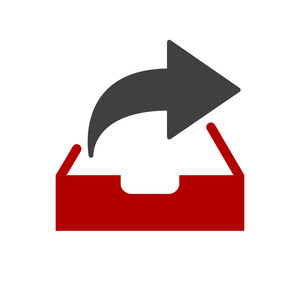 + Universal & Apple Watch App
$6.99
Rating:
:: ARCHIVE THIS
Dispatch claims to make triaging one's inbox easier with a bevy of advanced features, but they just prove to be overwhelming and overcomplicated.
Developer:
Clean Shaven Apps
Price: $2.99
Version Reviewed: 1.0
Device Reviewed On: iPhone 5
iOS Integration
Rating:
User Interface
Rating:
Re-use Value
Rating:
Overall Rating:
The floodgates have opened for email apps. Dispatch is the latest, following in the foot steps of Mailbox, Mail Pilot, and others in trying to bring an improved triaging experience for email: it's possible to set reminders for emails, easily archive or delete ones from the email list. There's multiple account support, automated salutations, swipe gestures for navigating and easily sending replies, and of course: a big undo button for when mistakes are made.
The triaging features make it easy to set reminders to handle emails outside of the mail app. Dispatch will basicallly create the email as the text for a reminder in a variety of apps, including the built-in Reminders app. Now, the built-in Reminders support is lackluster because of the inability to set timers easily. I recommend Due for easily setting timers, as the app supports that with ease, and it will also support going back to Dispatch in a jiffy. Things is also supported, along with OmniFocus. Is this any easier than the built-in timers in Mailbox? Not necessarily, but for users who rely on these to-do apps, it's definitely an advantage. Links can be opened in multiple browsers or easily copied to the clipboard via the same action menu that pops up for the triage options.
Now, where this app really starts to grind my gears is with archiving. Now, the only way to archive an entire conversation is to do it from the ocnversation list. So, if I want to archive a conversation while in the email, it often only archives just that one message, taking me to the next message in that conversation. Why would I want to archive just one message and not the whole thing? Annoyingly, this also means that for messages in the conversation that get archived, when going back through, the delete button replaces the archive button. This is just a terrible, terrible UX that needs to be addressed.
In fact, that's my problem with Dispatch in its entirety: what should be quick and simple to do becomes far too complicated. If I have to find workarounds for solutions like archiving and reminding, essentially fighting the app to use it well, then why should I use it? There's good features here, and ones that make it more convenient than the built-in mail app, especially for those who take the 'task list' approach to their inbox. Plus, there are concerns with Mailbox's server-based approach and email privacy that Dispatch seems to avoid. But I just think this is more trouble than it's really worth.