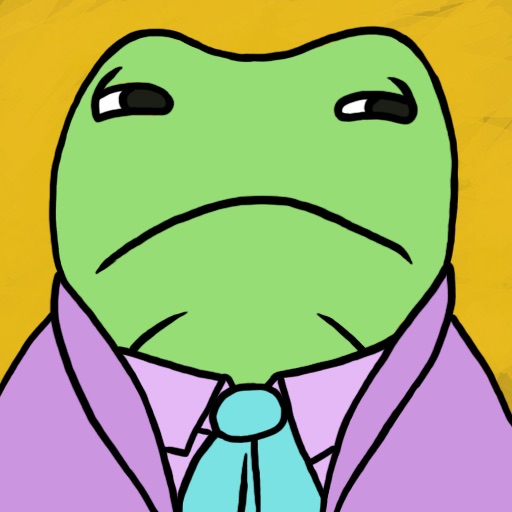 iPad App
$0.99
Rating:
:: ENTERTAINING
A quirky yet enjoyable interactive animated story.
Developer:
Pajamahouse Studios
Price: $3.99
Version Reviewed: 1.0.1
Device Reviewed On: iPad 2
Graphics / Sound
Rating:
Game Controls
Rating:
Gameplay
Rating:
Replay Value
Rating:
Overall Rating:
The visual style of
Desi Leaves Town
is immediately reminiscient of
Happily Ever After
. It's a bit more cynical than that though.
Desi Leaves Town
tells the tale of Desi, a talking frog who's keen to retire to the country. Desi is a rather pretentious and posh frog which makes for some pretty dark storytelling. Throughout the tale, some great voiceovers cover the dialogue and help develop the story. They also add to that sense of cynicism with a mixture of a drawling tone and a hint of Woody Allen style self-awareness.
The story itself is great with some very sharply written lines of dialogue. Desi Leaves Town does fall down in terms of accessibility, however. There are subtitles for the story part of the app. They're hidden away in the options menu, when it'd be much more convenient to choose them at the start of a new game, but they are there. Where the subtitles fail is the lack of them during the game sections of the title.
The game parts to the app are mostly reliant on the ability to hear the directions being spoken by one of the characters. For the hard of hearing or those who would rather play the game muted, this is a big oversight.
The games themselves are relatively interesting and varied. One puzzle might involve solving a jigsaw, while another might induce a queasy feeling as the player attempts to pull a tooth from Desi's mouth. Some puzzles could do with a bit more instruction as, at times, things can get a little confusing as to what's needed. For the most part though, they provide ideal bursts of interactivity amongst the fun story.
Gripes aside, Desi Leaves Town is an enjoyable title that offers something a little bit different. The games could just do with a bit more polish and the addition of subtitles, to make Desi Leaves Town a cut above the rest.