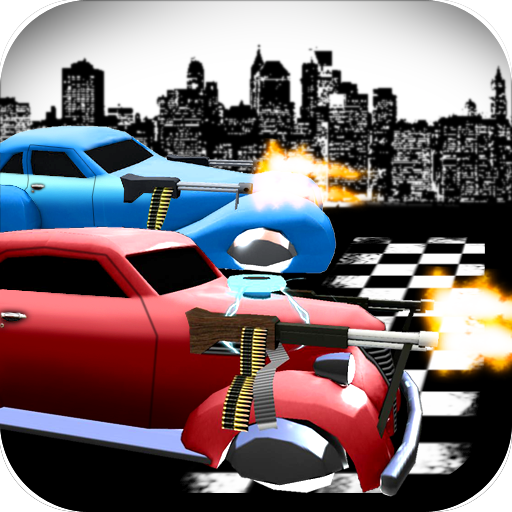 + Universal App
$0.99
Rating:
:: ACTION PACKED
Race classic cars in deadly competitions and wield powerful weapons to ensure victory.
Developer:
Nightfall Interactive
Price: $0.99
Version Reviewed: 1.0.3
Device Reviewed On: iPhone 4S
Graphics / Sound
Rating:
Game Controls
Rating:
Gameplay
Rating:
Replay Value
Rating:
Overall Rating:
Deadmans Run
is a battle royale type of racing game that is half a weaponized, no holds barred demolition derby and half a racing game turned cart racer. Players battle against up to three AI opponents on 9 different race tracks. However, they can arm their cars with weapons like machine guns and land mines which can be used to slow down or destroy the competition. Ammo for these weapons is limited though, so much like in a cart racing game, players have to pick up ammo refills along the way as they show up randomly on the track.
As with other racing battle games, players can upgrade their cars weapons and defenses. They can also purchase new cars as their race winnings increase. With 6 cars to unlock and tons of upgrades and weapons for each there is a lot to unlock and purchase. What is different in this game is how players use their cars and weapons. The more damage and mayhem a player causes during races, the more they increase their notoriety, and with more notoriety players can unlock new upgrades and get better prices on those upgrades. To further extend play, players can race through the single player campaign and then take their cars to time trials to post their times on competitive leaderboards.
The early 1900's era aesthetics are unique and interesting, and the environments are all well rendered. The game offers two view modes -- one close to the car and the other higher up above the car -- and both offer a great look at the different cars and racetracks. The racing AI is tough to beat, even in the game's early levels players will have to be agressive and quick to place in a race. The controls are fairly standard for the genre. There is an auto-gas option that will keep the car moving forward at top speed while the player steers, or there is a manual option that lets the player control the speed as well. The weapons buttons can be a bit small and hard to hit while racing, but this is only a minor annoyance.
Deadmans Run is a well done game. It doesn't have some of the polish or flash that a larger title might have but it has a lot of character and solid gameplay mechanics that will give players a good amount of fun for the price.