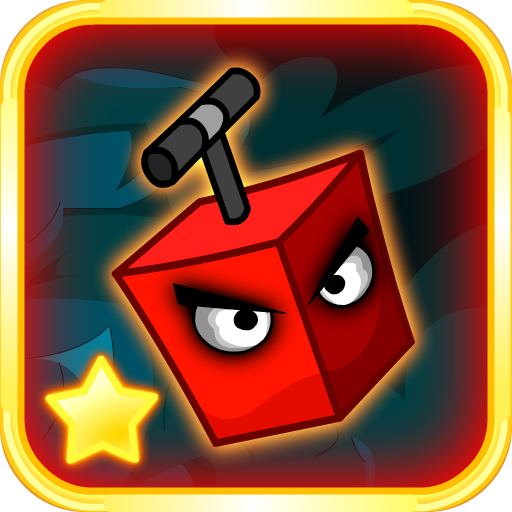 + Universal App
$0.99
Rating:
:: WATCH FOR FALLING ROCKS
Kid falls down hole, kid gets trapped in cave, kid fights evil rock monsters to escape.
Developer:
Origame64
Price: $0.99
Version Reviewed: 1.3
Device Reviewed On: iPhone 4S
Graphics / Sound
Rating:
Game Controls
Rating:
Gameplay
Rating:
Replay Value
Rating:
Overall Rating:
As Dave and his friend are out camping in the forest one day, Dave has the misfortune of falling into a cave. What's even more unfortunate is that this isn't just any cave. This cave is filled with creatures that have no intention of letting Dave escape the cave unharmed. Armed with only his reflexes and a steady stream of dynamite thrown into the cave from his friend above, Dave has to avoid the many malicious cave dwellers trying to trap him and blast his way out of the cave.
Dave vs Cave is split into 30 levels of increasing difficulty. Each level is a different part of the cave, and the exit to each part of the cave is blocked by a wall-like rock monster that Dave has to defeat to move on. From the ceiling, rocks and various other enemies and obstacles fall and Dave has to avoid them by running back and forth. Coins, stars, and dynamite also fall from above. Coins are used to purchase upgrades between levels, stars increase the player's score, and dynamite is used to destroy the rock monsters blocking the exits. To collect these items, players must run directly underneath them and catch them before they fall to the ground while also avoiding the enemies and falling rocks. When dynamite is caught, Dave kicks it into the rock monster's mouth and when he's packed it full with enough dynamite a detonator appears. Touching the detonator blows the dynamite and clears the monster from the path so Dave can exit.
There are several additional mechanics that make
Dave vs Cave
more challenging and fun to play. If players are brave enough to risk near misses from dangerous falling objects they are rewarded with score multipliers. There are also three different difficulty levels to try out. The visuals are simple and straightforward, but there is tons of variation in the types of obstacles and creatures players will meet on their way out of the cave. The levels tend to run a bit on the long side and can be somewhat repetitive, but overall this is a simple game with entertaining gameplay.