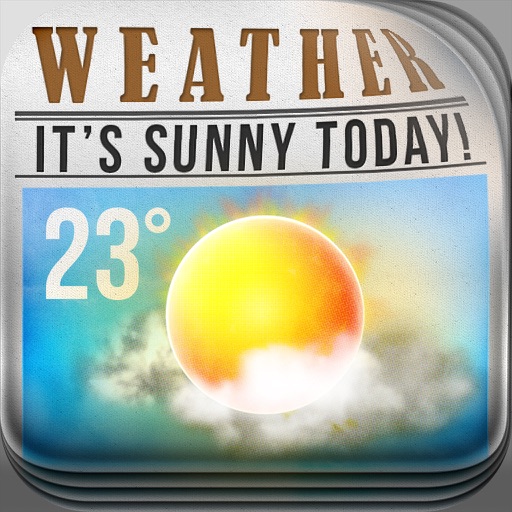 iPhone App
FREE!
Our Review by
Rob Rich
on September 10th, 2012
Rating:
:: SLIGHTLY MORE FORM THAN FUNCTION
Daily Weather is a slick-looking app with an emphasis on style. Fortunately it does usefulness pretty well, too.
Developer:
Ketchapp
Price: FREE
Version: 1.1
App Reviewed on: iPhone 3GS
iPhone Integration
Rating:
User Interface
Rating:
Re-use / Replay Value
Rating:
Overall Rating:
I've noticed a bizarre trend lately. It seems that most people have embraced digital, and thus don't require physical means of acquiring their day-to-day information such as newspapers and magazines. Except when commuting or waiting around at the dentist's office, anyway. Print may not be dead but it
is
in dire straits, which is why I find it curious that lots of people (myself included) seem drawn to digital media that's portrayed in a more physical manner. Case in point:
Daily Weather
. A weather app that does what it's supposed to do while looking like a printed newspaper.
Starting up Daily Weather for the first time prompts users to allow location services, then the app automatically does the rest. The weather, temperature, wind, humidity, and overall summary (i.e. "It's warm") are displayed. New locations other than the user's current one can be entered manually in order to plan for trips or out of curiosity and each location can be saved for later inquiries. Swiping from right to left across the screen "turns the page" and brings up the next day's forecast complete with fun little page flip transitions.
I have to admit the developers went all out with
Daily Weather
's newspaper motif. It presents the relevant information within a useful hierarchy, and it looks nifty while doing it. The page turning mechanic is also pretty neat, right down to the sound of newspaper pages in motion. Of course this is all just the presentation. As an actual app it's pretty useful, too. Highs and lows are definitely important, as is knowing if dragging an umbrella around all day is necessary, but the simple little summation is also great for anyone who just wants to take a second to see what the outside is like without producing any mental scenarios. Because while it might be 70 degrees out, it could feel much warmer due to humidity and seeing something as simple as "it's hot" can be incredibly beneficial. Especially when making wardrobe choices.
Aside from the somewhat annoying ads and limited forecasts present in Daily Weather, I've noticed a more pressing issue that has nothing to do with paid versus free: there's no way to freely jump between days. Seeing the forecast for the next few days requires swiping ahead for each day one at a time, while the same must be done in reverse to get back to the current day. It's a small detail, but having to sit there and swipe-swipe-swipe to see what Friday looks like, then swipe-swipe-swipe back can be bothersome.
Daily Weather has both the style and the substance, but it's obvious that one was a larger focus than the other. It's still a useful app, of course, only with a couple of interface hiccups that slow down the process.