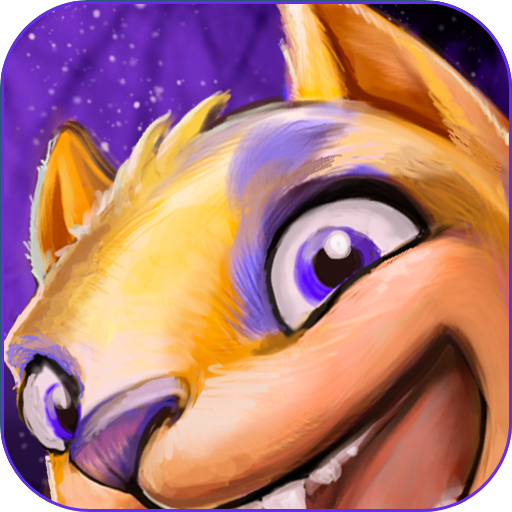 + Universal App
$0.99
Rating:
:: GORGEOUS DISAPPOINTMENT
CreaVures is a visual treat but falls short as a puzzle platformer.
Developer:
Chillingo
Price: $0.99
Version Reviewed: 1.0.1
Device Reviewed On: iPad 2
Graphics / Sound
Rating:
Game Controls
Rating:
Gameplay
Rating:
Replay Value
Rating:
Overall Rating:
If one happens to be old enough to remember the black light posters that graced basements and vans of the psychedelic set in the 70's, brace for a flashback of visual goodness.
CreaVures
is a puzzle-platformer with some serious gaming issues, but it's trippy neon eye candy.
Set in a dark forested world, five little critters - or CreaVures - are on a mission to return the sunlight to their realm. Hidden in the dark are particles of light to collect and animals whose fear has them running amuck. Our heroes must use their respective abilities to collect pieces of light and knock their fearful foes out of the way.
Gamers start playing as Bitey, a cute if inanely named creature whose jumping prowess is impressive and long tail a boon. After a few introductory levels we bump into prickly Pokey, who is something like a porcupine. He's less sprightly, but shoots some serious quill power. Instead of swapping out characters, players control both.
There is not much puzzling to this puzzle plat former, but the bulk of it comes from choosing which CreaVure is best suited to the obstacles. As players progress through levels Rolly, Zappy and Glidey, whose powers are betrayed by their monikers, join and players pick which two to use at any given time.
CreaVures don't move together; players must backtrack and take the second little guy along the same path as the first, sometimes using an attribute of the former to help the latter. For example, Pokey can grab hold of Bitey's tail when trying to swing.
The graphics are simply brilliant, and the soundtrack is charming and ethereal. The premise is a clever one too. But the puzzle element is sorely lacking and as a pure platformer rerunning the same terrain and avoiding the same obstacles twice at every juncture bogs the game down. The levels offer visual ingenuity at every turn, but not so much in terms of new challenges. There are a few boss battles, but that's using the term generously.
The biggest sticking point, however, is the control scheme. The game uses a virtual D-pad and also incorporates swipes for certain moves. But the UI misinterprets a lot of input and the forward momentum when trying to land on small objects like platforms is overwhelming. When coupled with the less-than-innovative levels the game loses a lot of replay value.
As a platformer CreaVures is at best a tepid success, badly in need of a control makeover. But as a visual and even auditory adventure it's feast for the senses.