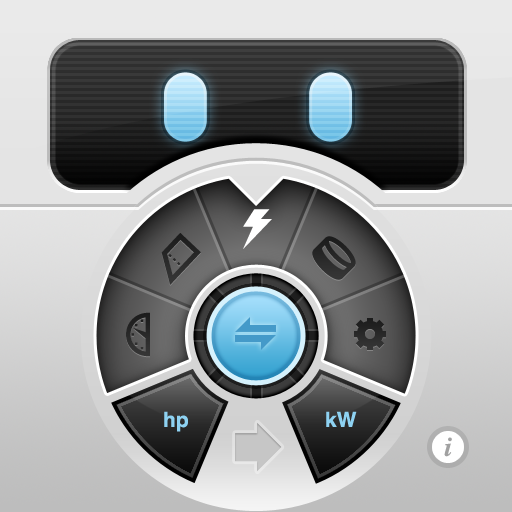 iPhone App
$1.99
Rating:
:: HIGHLY RECOMMENDED
The newest entry into the crowded field of conversion utilities is from the developers at Tapbots. That alone is worthy of our attention and Convertbot does not disappoint.
Developer:
Tapbots
Price: PRICE
Version Reviewed: 1.0
iPhone Integration [rating:5/5]
User Interface [rating:5/5]
Re-use / Replay Value [rating:3/5]
Overall Rating:
The latest application from the same folks who brought us Weightbot is a wonderfully elegant and simple conversion robot for your iPhone or iPod Touch: Convertbot. At this point you're probably thinking, "Not another conversion application!" But after using and admiring Convertbot for the past few days, I would encourage you to consider it.
Launching the application for the first time brings you to a built in demo, which is helpful and can be replayed at any time by tapping the information button in the lower right hand corner of the screen. Using the main scroll wheel, the type of conversion is chosen. Included conversion types include currency, area, angle, work, volume, time, temperature, speed, pressure, power, mass, and length. After picking the conversion type, the actual units you wish to convert 'from' and 'to' are chosen by clicking on the medial left and right buttons of the scroll wheel; this in turn brings up the unit options. Clicking and pressing the center 'OK' button sets up the conversion. Subsequently tapping on the screen above the wheel brings up the number pad into which you can complete your calculation. Pressing the double arrow button swaps the conversion on the screen, which is especially helpful when calculating currency conversions.
Convertbot has a fantastic graphical interface and is actually fun to use. The release version is also quite stable. I would love to see more conversion categories and the ability to customize the display by hiding or removing categories infrequently used. The ability to add more (read: obscure) currencies and turn off the auto-update of rates would be most welcome. I would gladly ditch my standalone currency converter if this would come to pass. In the meantime I encourage you to check out Convertbot for what it is today---an intuitive, stable and beautifully designed unit converter.
[gallery]