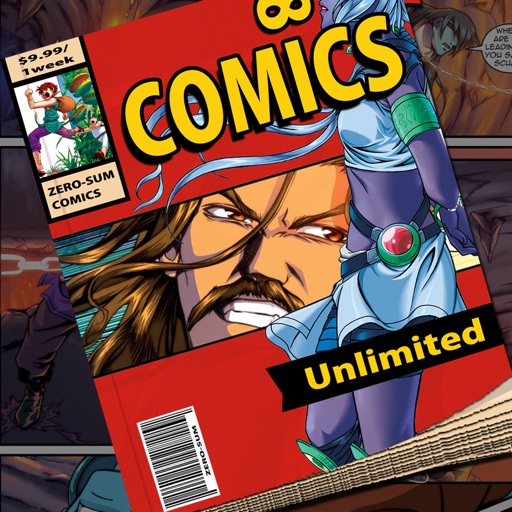 iPad App
FREE!
Rating:
:: VARIED SELECTION
Offering users both a free way to read comics and a subscription service, Comics Unlimited is a fun package of reading material.
Developer:
Zero Sum
Price: FREE (Subscription service available)
Version Reviewed: 0.9
Device Reviewed On: iPad 2
iPad Integration
Rating:
User Interface
Rating:
Re-use Value
Rating:
Overall Rating:
The App Store has no shortage of comic book reading apps but
Comics Unlimited
offers something a little different from the rest: the ability to unlock free comics and be rewarded for reading regularly. It's a neat move and one that I could see working well with regular books, also.
This feature also means that
Comics Unlimited
works in one of two ways. For free, users can browse the catalogue which offers over 1000 different choices, comprising of the likes of Transformers, G.I. Joe, Archie, Astro Boy and many more. In each case, users can get a taste for what's on offer by reading through a few pages, before deciding whether to purchase. However, for free, they also get access to a select bunch of freebies, providing they earn them.
Stickers are used to reward the user upon finishing glancing through a preview or reading a free comic. In turn, these unlock new free comics that can be read at the user's leisure. There's a diverse mix, too, starting out with a biography of Steve Jobs' life and following up with Astro Boy, Archie, Star Trek and many more. It's a fun and satisfying feature, without taking into consideration that I greatly enjoyed the comics available.
It's possible to subscribe to the full complement of comics for either $9.99 for a week or $29.99 for a month. It sounds a little expensive but there's plenty to read through here, making it quite worthwhile. The encouragement via stickers help all the more.
The general look of Comics Unlimited lends itself perfectly to comic books, with it possible to zoom in on specific frames as well as rotate the iPad according to the user's taste. Browsing and skimming through pages is similarly intuitive and speedy. It's a fine addition to any comic fan's arsenal.