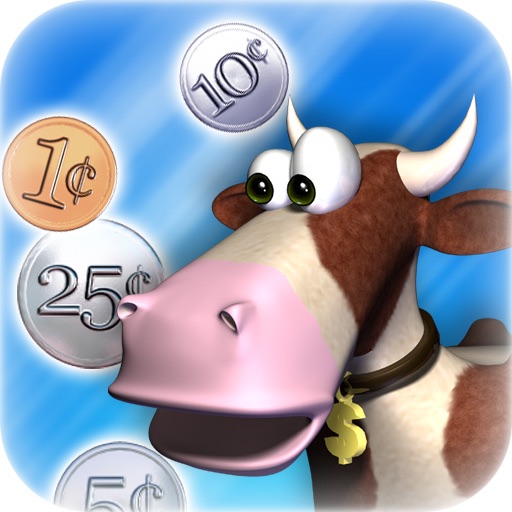 iPhone App
$0.99
Rating:
:: MOO-TASTIC
Cash Cow takes money-counting and turns it into a fantastic puzzle that rivals Bejeweled in the addiction category. Absorbing and fun, this puzzle game is simple to learn but requires plenty of strategy to master.
Developer:
Chillingo
Price: $2.99
Version Reviewed: 1.0
Graphics / Sound
Rating:
Game Controls
Rating:
Gameplay
Rating:
iPhone Integration
Rating:
User Interface
Rating:
Re-use / Replay Value
Rating:
Overall Rating:
When I first saw the screenshots for Cash Cow, I was fervently hoping that this wasn't another match-3. To my delight, Cash Cow isn't remotely similar to Bejeweled—it's a money-counting game that manages to be both addicting and wholly unique. Any puzzle fan willing to do a bit of mental math should love Chillingo's high-quality port of the PC puzzle.
You play the role of Buck the Cow, who must collect pocket change in order to save his farm. Each level consists of a 6x7 grid, much like Bejeweled, but with random coins instead of gems and (thank God!) no match-3 mechanic. To earn money, you connect sequences of coins—five pennies make a nickel, two nickels make a dime, and so on, until you manage to form a dollar. Up to ten coins can be linked in one "chain," and they must combine to form either a nickel, dime, quarter, or dollar. The coins then merge to form a new coin, or, in the case of a dollar, they simply disappear. More money rains from the sky to refill the board until you amass enough cash to meet your goal.
It's simple on the surface, but powerups and obstacles like counterfeit coins are steadily introduced to keep things challenging. Penny rolls can be tapped to remove all pennies on a board, for example, and ladybugs flit from coin to coin, obstructing your moves. Just like any good puzzle game, strategy isn't necessary in Cash Cow...but if you want to excel, you'll need it.
There's a wide array of gameplay options available; you can play the normal Arcade mode, which is divided into levels, but Endless, Relaxed, and Practice modes are also available. In Arcade mode, physics-based bonus minigames are interspersed with the main game; you also access the Bonus mode from the main menu.
I love the main game in Cash Cow, but all's not perfect on this farm. For one, if you exit the app, you'll lose your progress for the level. The load times between levels are annoying, and I wish that you could save your progress in Endless mode, because I'd rather play uninterrupted. While the inability to save during Endless mode is my biggest gripe, at least you get multiple save slots for Arcade!
As far as graphics and audio go: graphics are great; audio, not so much. The cliche ringing of cowbells and cheesy farm music grows old relatively quickly, but at least you can play your own music or turn off the in-game soundtrack without disabling special effects.
Despite these minor flaws, Cash Cow is an excellent puzzle game. It's challenging, it's fun, it's charming and it keeps you on your toes. What else could you ask for? I never thought that money-counting could actually be just as addicting as puzzle classics like Bejeweled, but Cash Cow manages to captivate. This one's a no-brainer: if you like puzzles, you'll like Cash Cow.