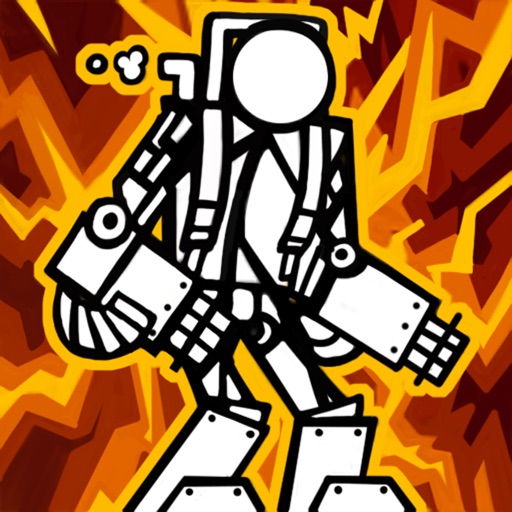 iPhone App
$0.99
Rating:
:: SERIOUS STICK ACTION
Cartoon Wars – Gunner is a great sequel to the original game. Combining shoot-em-up action with RPG elements, it's deceptively deep and its combination of well-drawn graphics and animation, intense, solid game play and ability to track scores on-line
Developer:
BLUE GNC, Co., Ltd.
Price: .99
Version Reviewed: 103
Graphics / Sound
Rating:
Game Controls
Rating:
Gameplay
Rating:
Re-use / Replay Value
Rating:
Overall Rating:
Thanks to the iPhone and Apple's App Store, stick figures are finally getting the credit they deserve. No longer relegated to Hangman and 4th-grade art projects, stick figures (and doodles, for that matter) are finding work in epic games, fighting and otherwise. I, for one, salute the app store for its uncanny ability to bring and intermix all races, color and creeds of graphics characters. If only the real world could follow suit…
Cartoon Wars – Gunner is a spin-off of the very successful original Cartoon Wars game. The original Cartoon Wars was a tower defense game that had users defending their castle while conquering their enemy's castle. In Gunner, users run for their life around the screen, blowing enemies away with a vast array of skills and purchasable weaponry that can be upgraded as the game progresses.
Cartoon Wars – Gunner picks up where the original left off: (insert movie trailer guy's voice) In a world riddled with o's, x's, lines, scribbles and doodlings, there rises a hero: Captain J, the hero of Cartoon Wars, was viciously attacked by savage assassins sent by an even "savagier" King who envies him. Captain J survived, but was left with a debilitating injury requiring he flee, to hide deep within the cover of an unnamed mountain. While healing, Captain J vows revenge upon the King who betrayed him and will stop at nothing to ensure vindication.
Cartoon Wars – Gunner features 11 different types of upgradeable weapons, such as a flamethrower and a mech suit, each with 4 mana skills and 30 different types of enemies, such as dragons and flying bats and has three difficulty settings: easy, medium and hard. Once players advance to a certain level, the game's survival mode is unlocked.
The number of upgrades within this game is almost ridiculous (almost). Each weapon has four upgradeable components: Speed, Power, Range and Skill (weapons have 4 different upgradeable skills, powered by mana). In addition to upgrading weapons, players can upgrade their personal abilities/capabilities in 10 different areas, such as the ability to increase the amount of gold earned after a battle, damage increase points and defense increase points. Gunner's vast upgrade capabilities/options do much to add to its replay value.
As for Cartoon War – Gunner's graphics, well, they're stick figures, but they're well-drawn and, when combined with the game's scenic backdrops, provide users with a visually pleasing, immersive game play experience. BLUE GNC essentially took a simple graphic/animation concept and upped the ante, pushing those little stick figures to the peak of their individual and collective graphic quality attributes. That said, the game's animations are also smooth and well-drawn. In addition, the game's electronic-themed soundtrack integrates well with it's crisp array of sound effects, providing a quality auditory dimension to the immersive game play.
As mentioned earlier, the premise of the game is controlling a stick figure, Captain J, to move around the playing area, obliterating enemies with a vast arsenal of weaponry. Users control the main stick figure by using a virtual D-pad in the lower left portion of the screen to move him, a fire button in the bottom, right corner of the screen and an icon offset, lower center allows users to change weapons.
Early on in the game, I noticed the movement controls to be slightly sluggish. As the game progressed and my attack speed increased, the captain was more difficult to control. Overall, the movement controls could be tweaked, but this is merely a minor flaw in an otherwise solid control scheme. Be forewarned, however: playing this game for long intervals will give you blisters (on your thumbs). I would suggest playing this game in a manner it's well-suited for: in moderation.
Game play can become somewhat repetitive (moderation), but the vast arsenal of upgradeable weapons and skills help offset this. That said, once you unlock survival mode, you're forced to start all over, i.e. you can't carry the weapons and skills you worked so hard for over to that mode of play. BLUE! You're my boy, BLUE! You should consider changing this in future updates.
Captain J is allowed to use three weapons at a time (shown in upper, left corner), but each weapon heats up and eventually enters a cool-down phase. Once the weapon is cooled, it can be used again. Also, as mentioned earlier, each weapon has 4 different skills, powered by mana. Skills are either active or passive (available for use or unavailable pending an upgrade, etc.).
Cartoon Wars – Gunner is a great sequel to the original game. Combining shoot-em-up action with RPG elements, it's deceptively deep and its combination of well-drawn/well-developed graphics and animation, intense, solid game play and ability to track scores on-line more than justify its price tag. Regardless of whether you are a fan of the original, Cartoon Wars – Gunner and its plethora of weapons/upgrade options will keep your opposable thumbs busy for countless hours. Considering what you get for a buck, skip BK's dollar menu and purchase this game.