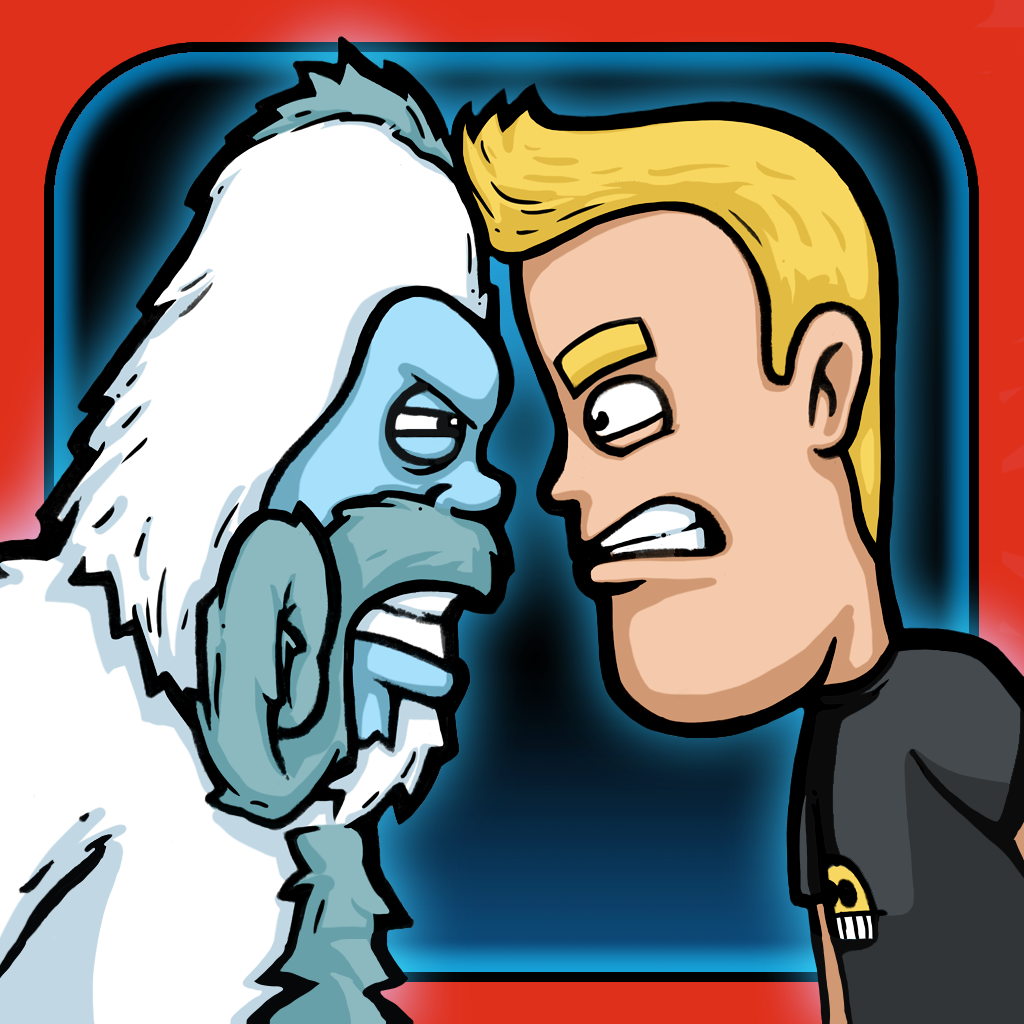 + Universal App
FREE!
Rating:
:: RAGING FUN
Battle against an evil Yeti and take down fat fairies and crazy leprechauns in this hilarious and action-packed platformer.
Developer:
RunWilder
Price: Free (normally $0.99)
Version: 1.01
App Reviewed on: iPhone 4S
Graphics / Sound
Rating:
Game Controls
Rating:
Gameplay
Rating:
Re-use / Replay Value
Rating:
Overall Rating:
What happens when leprechauns, fat fairies and yetis get together? They wreck havoc of course. When things get crazy, it's time for someone to take charge and fight back to save the day. In this case, it's a young man known as Burt and his pal Bigfoot.
It's no coincidence that Burt's last name is destruction. When someone makes him mad, he grows in size like the Hulk and his eye occasionally pops out of its socket. In this side-scrolling platform runner, gamers must help Burt and his Bigfoot buddy defeat the evil Yeti and his partners in crime.
There are two crazy worlds to get through with a third one on the way. At the start of each game, players guide Burt by tapping on the screen. Instead of the typical left right controls, just tap on the screen to jump, double tap for a higher jump and call in Bigfoot to help destroy enemies. Burt goes into destruction mode when his rage meter fills, so gamers must work on collecting coins, completing missions and discovering hidden artifacts in the mean time.
Collecting coins lets players upgrade their character, purchase power-ups and buy costumes. There are in-app purchases that range from $1.99 to $49.99 for more coins, but they aren't necessary since it is possible to grind for coins.
Burt Destruction isn't a very forgiving game. Just a couple mistakes and players will have to start all over again. I didn't see any halfway points to help compensate for the difficult levels. I had trouble completing the first two levels because I kept dieing over and over again. The multiple paths and various items that can be collected help to keep things interesting, but I would be lying if I didn't say that I was still quite frustrated at times.
The other downfall is that it isn't anything that players haven't seen before. Yes, the graphics are well-polished and it has hilarious cut scenes, but it needs something more to make it stand out from everything else in the crowded App Store. An endless mode, additional levels and Game Center leaderboards would all be great starting points to increase the gameplay value.
Despite my initial frustration, I made it through the Neverfun Land amusement park and Wormenstein's Party Island to find my way to victory. There's plenty of action to keep gamers satisfied, and it's evident that a lot of thought and time was put into this platformer. While Burt Destruction could use a few upgrades, it's still a pretty rad game that's worth the download as long as gamers don't mind the challenge. It's currently free right now to celebrate its first week in the App Store, but I have a feeling that it won't be free for long.