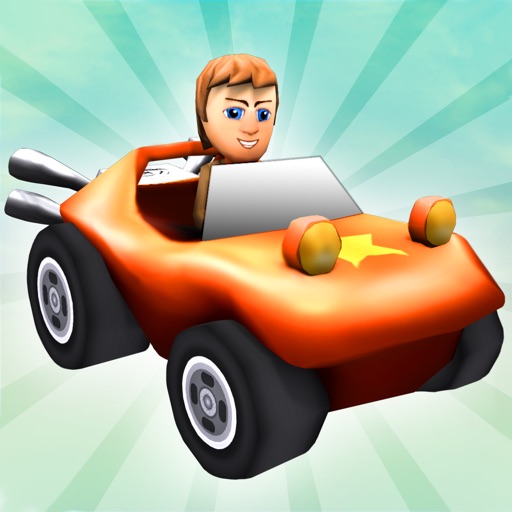 + Universal App
$2.99
Rating:
:: RACING ROMP
Colorful and vibrant, this arcade racer is ideal for those with a penchant for speed and competitive play.
Developer:
The Quad Sphere
Price: $1.99
Version Reviewed: 1.0
Device Reviewed On: iPhone 4
Graphics / Sound
Rating:
Game Controls
Rating:
Gameplay
Rating:
Replay Value
Rating:
Overall Rating:
The name
Bounty Racer
conjures up images of racing coconut based chocolate bars for those readers based in the UK. While that very thought makes me hungry,
Bounty Racer
doesn't actually have much to do with tasty treats. It is a pretty enjoyable arcade racer though, with the kind of features that would be expected within a PSN or XBLA title.
Starting out in Rookie mode, players gradually build up their racing prowess. A variety of different vehicles can be unlocked through progression and success. In all, there are 72 different events to check out with three different race types per track. Typical races are available but also collection ones that involve following a set path to collect stars, and an elimination mode that's a matter of keeping ahead of the pack and never falling to last place.
There's a varied selection of tracks in all, with each course offering multiple paths that can be taken. Some races are set in night time to add an extra level of difficulty, with a smooth learning curve ensuring things never feel too overwhelming. In all cases, the tracks are typically arcadey with plenty of jumps and ramps to be propelled from. A nitro boost button rewards those who regularly drift around corners.
Coins acquired after completion of each race can be used to unlock new vehicles or to customize the driver with new decorations such as hats or other outfits.
Further refinements come in the ability to adjust controls quite extensively. Acceleration can either be manual or automatic, with tilt, stick or buttons dictating direction and braking.
The real ace in the pack, however, comes from the multiplayer functionality. A Bounty mode (hence the name) provides fun in the form of encouraging gamers to beat each other's scores, thus gaining extra coins. It's also possible to hook up with other players and compete in real time. Via Game Center, replays of such events can be shared providing a potentially great community for racing fans. In the pre-launch build I checked out, the potential is clear and I can only see it expand even further when everyone gets to play.
It's this focus on multiplayer gaming that ensures Bounty Racer stands out from the crowd. It's a very enjoyable arcade racer for the lone gamer, but incorporating things such as Bounty mode feel more akin to something that a console game would offer and will surely extend longevity a ton.