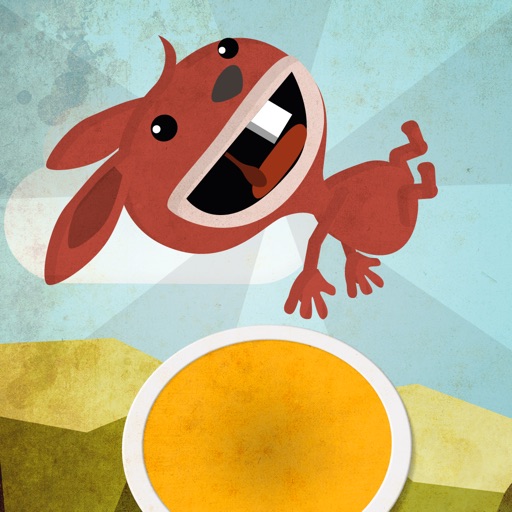 + Universal App
FREE!
Rating:
:: JUMPING FOR JOY
Addictive gameplay, fun graphics and an addictive structure give Bouncy an edge on all other 'time-waster' apps.
Developer:
Marcel Blanco
Price: $0.99
Version Reviewed: 1.0
Device Reviewed On: iPhone 4
Graphics / Sound
Rating:
Game Controls
Rating:
Gameplay
Rating:
Replay Value
Rating:
Overall Rating:
Games that you can pick up and play at any time are all the rage these days, and Bouncy! is entering this crowded market with a very different style of game than that of the one that most people are used to - but does it succeed?
In Bouncy!, the player is given the task of controlling a bunny who is, as the title would suggest, bouncing on a trampoline. The player is also entrusted with ensuring that the bunny can safely execute and land a variety of tricks.
I can safely say that Bouncy! has one of the best control schemes I've ever seen on an app. Players can easily choose between 'slide' and 'touch' controls when they first start up the app - and of course this option is easily accessible from within the settings menu at any time. The graphics of the game are particularly endearing, with a stunning 'hand-drawn' theme adapted for the in-game graphics.
One of the best ways to gain points within this game is to perform 'combos' whilst suspended in the air. These 'combos' are achieved by performing several tricks in quick succession. I did find that the controls used for controlling the bunny whilst in mid-air could be finicky to say the least at times, and more than once they affected my landing. This issue seemed to be present in both control types, but is particularly noticeable in the touch one.
If I was forced to single out one particular aspect of this game, it would definitely be the attention of the detail. From the splash screen to the actual gameplay, it is incredibly evident that serious TLC went into the developing of this app - and it really pays off. Once the player completes the comprehensive and very well laid out tutorial, they are than ready to start showing off their new skills - and earn new trampolines each with different attributes during the process.
Bouncy! is without a doubt one of my top go-to games for when I have a few spare minutes, with it's stunning graphics, fun and inviting gameplay and addictive incentives (such as new trampolines), many avid iOS gamers might just find themselves also charmed by it.