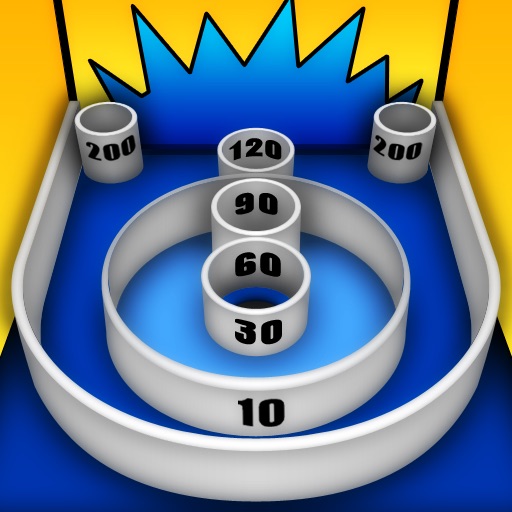 iPhone App
$0.99
Rating:
:: RECOMMENDED
10 Balls, 7 Cups presents an arcade skeeball experience with a flippant ticket system (pet dragon, anyone?). It's a polished, simple game with great graphics, and perfect for wasting time. Just don't expect anything complicated.
Developer:
Graveck
Price: $0.99
Version Reviewed: 1.0
Graphics / Sound [rating:4/5]
Game Controls [rating:4/5]
Gameplay [rating:4/5]
Re-use / Replay Value [rating:3/5]
Overall Rating:
It's been a while sine I've played skeeball—I was never that good, and going down to the arcade seems like such a pain compared to the wealth of games available in my pocket-sized iPod Touch. But I used to love skeeball; there's something special about an unpretentious, simple game that just sticks with you. What better way to revive an old classic than by porting it to the iPhone? We've seen a recent surge in such thinking lately, with mixed results; thankfully, 10 Balls, 7 Cups is an accurate, well-presented skeeball clone, repackaged for the 21st century gamer.
10 Balls, 7 Cups is as simple and straightforward as its name suggests. When you start a game, you're presented with an arcade-style skeeball lane. Rolling a ball down the lane is as easy as flicking your finger across the screen (think bowling) and tilting your device while the ball rolls creates spin. Each round gives you ten balls (surprsie?) and there are seven cups (another surprise!), with the farther cups yielding more points. Also, sometimes cups flare up, and if you land a ball in a lighted cup, you win a multiplier for the rest of the round.
Of course, no arcade game would be perfect without tickets! 10 Balls, 7 Cups awards you tickets based on your score, and those tickets can be redeemed for prizes—ranging from a "stupid fart application" (sound familiar?) to a pet dragon. I even managed to buy "some kid's tickets" once...er, well, steal. It added a nice 100 tickets to my loot. Your prizes aren't really worth much, naturally. The game keeps track of them in a text log, and has a "Brag to a Friend!" button at the bottom of your loot list. An image gallery could be potentially funny, but it's not really necessary.
10 Balls, 7 Cups is a success largely because of its presentation. The simple, polished graphics give the game a goofy-yet-classy vibe, and the sound effects are good. The menu is simple and brooks no wasted items; the high score table is the main screen. (Unfortunately, there are only global tables; the game only keeps track of your top score, so there's no local leaderboard.) As for the physics, they feel great. I really admire the way the skeeball alley looks, and the art is great. I am kind of curious as to the lack of background music, but I found that I don't really mind; playing your own tunes (double-click on the home button) lets you set the mood yourself.
It goes without saying that 10 Balls, 7 Cups was never meant to be an in-depth game, but if you're looking for some good, solid skeeball action, you should definitely consider it. 10 balls go by really quickly, which makes it near-perfect as a pick-up-and-play game for those thirty seconds of horrific nothingness that manage to sneak into our lives every now and then. Don't ask me why, but the ticket collection feature is somehow priceless; even in real life, collecting tickets is just worth it, even if all you get is a bunch of old candy and some fake vampire fangs...or, in this case, a nonexistant lollipop or an imaginary pet dragon. 10 Balls, 7 Cups a simple game, but it presents a pretty awesome rendition of an arcade classic—and all for the price of a buck.