Posted by
Will
on July 27th, 2009
Random musings of the app store.
Removal of EDGE from the App Store
[caption id="attachment_14714" align="alignright" width="111" caption="Hey Tim, why don\'t you actually make something?"]
[/caption]EDGE, a simply fantastic game, has been removed yet again from the App Store, due to a trademark dispute with Tim Langdell. For those who don't know, Langdell is a leech who hasn't made a game in over 15 years, instead making his living by suing any game with "edge" in the name. Good thing there's the IGDA, or international game developers association, whose mission is to "advance the careers and enhance the lives of game developers by connecting members with their peers, promoting professional development, and advocating on issues that affect the developer community" (from
www.igda.org/about
). Oh, wait, Tim Langdell is actually on the board of directors at IGDA! So yes, Langdell has attempted to trademark a commonly used word, and has succeeded largely in part to the fact that developers can't afford to fight costly legal battles and simply want to reach a settlement. Mobigame, EDGE's developer, hasn't given in yet, so kudos to them. Langdell may have bitten off a bit more than he can chew, however, as he is attempting to sue EA over their Mirror's Edge game. One can only hope that EA will cut Langdell down to size and clear the way for future edges.
Apple considering reorganizing App Store
[caption id="attachment_14715" align="alignright" width="300" caption="Eight of the top ten games are $.99"]
[/caption]In their quarterly report last Tuesday, Apple said, regarding the App Store structure: "We're always looking for ways to categorize apps differently and we have some ideas. We do it by type of apps and top selling apps, and we realize there is opportunity for further improvement and we are working on that. As for price, it's up to the developers to choose where to set the price. I would think as the installed base grows, it makes sense to have lower prices but that's totally up to the developer."
Part of the problem with the App Store is that top lists are organized by volume rather than revenue. This encourages "bargain bin" pricing, as obviously it is much easier to sell a large volume at a lower price. Since the top lists are organized in such a way that apps that make it there tend to stay there, they are all-important. It is very tough to make a profit selling a game at $.99, so this in turn encourages short development cycles with small budgets. Big IP's like DOOM will always sell at a higher price, but indy developers with AAA ideas may never see their ideas come to fruition due to over-inflated consumer expectations. If Apple decided to have a list by revenue, this would go a long way to curing the woes of the App Store, but it wouldn't completely fix it. Besides the top lists, the next best marketing tool for a developer is word of mouth, so regardless of price, it can be difficult for an app to gain traction. Apple's featuring method is arbitrary at best, and their review system is severely flawed, as only those who either hate or love an app review it, meaning an app's rating is basically dependent on its ratio of five star reviews to one star reviews. Perhaps both requiring users to "earn a reputation" in order to have their rating count and eliminating the rating prompt after deleting an app could go a long way to solve this. On top of this, however, there is currently no list for top-rated games, and Apple could and should implement this easily with a minimum number of ratings benchmark.
Social gaming network competition
The iPhone now has three notable high score networks: OpenFeint, ngmoco's Plus+ network, and Chillingo's recently announced Crystal. Ultimately, one will become the network for the iPhone. This will shape up largely like the Blu-Ray/HDDVD wars of old; consumers will not want to have their favorite games fragmented over three different networks, so war will be waged as developers choose which network to implement. I see Plus+ winning, as OpenFeint is largely about superfluous features over interface and usability (I don't want to chat with people in the middle of my game) and has no large developer backing it, and Crystal has yet to be started. Earlier is always better, and as third-parties start using Plus+ before Crystal is even in any of Chillingo's games, Plus+ will get a huge head start. Developers will always want to use whoever is "winning."
This week's sign of the apocalypse
[caption id="attachment_14716" align="aligncenter" width="300" caption="This is what happens when Apple features Eviro-Bear for two straight weeks"]
[/caption]
Enviro-Bear 2010 (App Info) has now been featured in some context for two consecutive weeks by Apple. Talk about a platform showcase.
Apps of the week
Because productivity is overrated, I chose two games as the apps of the week:
Star Hogs
After my immense disappointment with Worms, I was comforted by the brilliance that is IUGO's Star Hogs. Star Hogs doesn't try to be a Worms clone; instead, it brings many new well-implemented twists to the genre like ship/weapon customization and the unique energy system. The online component is fantastic, though there is a notable lack of online players (yet another reason why everyone needs to buy the game). Star Hogs might not have the visual appeal and charm of Worms, but it does just about everything else right, and therefore earns a spot as an app of the week.
iPhone App - Designed for iPhone, compatible with iPad
Released: 2009-07-06
::
Category: Game
$3.99
Triazzle
Remember those maddeningly difficult wooden triangle puzzles? Well, that's what Triazzle for the iPhone is, but in this case, it's even better than the original. Back in the day, you would have to shell out $15 for one of those bad boy's, but on the App Store you can buy an unlimited number of Triazzle puzzles for just $2.99. Yep, that's right: infinite puzzles. This, along with exceptional graphics that "come to life" as you solve a puzzle, a great help system, and soothing music, makes Triazzle an app of the week.
[caption id="attachment_14717" align="aligncenter" width="200" caption="Now even better on the iPhone"]
[/caption]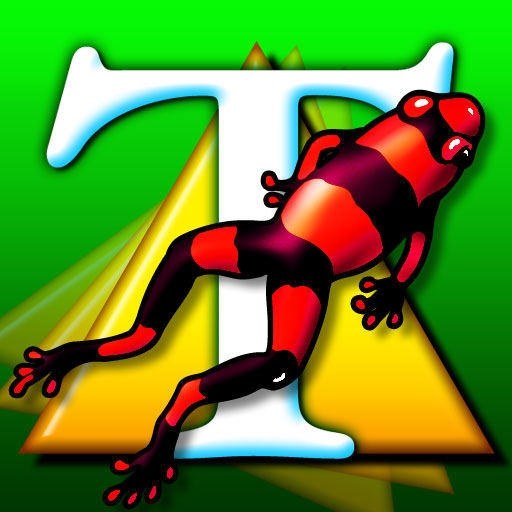 iPhone App - Designed for iPhone, compatible with iPad
Released: 2009-07-17
::
Category: Game
$2.99
So that's it, the first Monday Morning App HQ. Hopefully I won't receive too much hate mail.