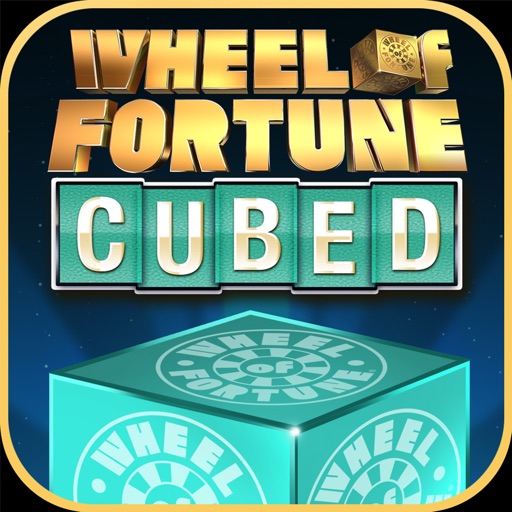 + Universal App
$1.99
Rating:
:: CUBED WORDS
A change from the usual format, Wheel of Fortune Cubed suffers from some control-based issues, but it's an otherwise quite solid word game.
Developer:
Sony Picture Television
Price: $0.99
Version Reviewed: 1.0
Device Reviewed On: iPhone 5
Graphics / Sound
Rating:
Game Controls
Rating:
Gameplay
Rating:
Replay Value
Rating:
Overall Rating:
Offering a twist on the traditional format,
Wheel of Fortune: Cubed
is a quite fun word game, offering both single and multiplayer challenges.
As the name suggests, instead of a line of tiles covering up a well known term or phrase, words are arranged in a cube pattern. Two sets of clues are contained, with them on either side of the cube, leaving players able to combine them to figure out what the word could be. It's a sometimes challenging mix, even when considering that all the words are only five letters in length. In the single player mode, players choose a few letters for free, before attempting to decipher what's left. While in the multiplayer mode, they take it in turns to add consonants in the hope that they figure out the solution before their opponent.
In each case, letters are dragged from the bottom of the screen to the relevant tile. This can cause some problems as, even with small fingers, I found it all too easy to select the wrong letter. When up against the clock, this can cause some problems, such as the time I managed to waste the remaining 10 seconds of the game trying to select E instead of F.
It's unfortunate that Wheel of Fortune: Cubed suffers from such an irritating control issue, as otherwise the experience is pretty well designed. The combination of single and multiplayer means there's always something to do, with a series of simple power-ups enhancing progress but not restricting success to those with plenty of the in-game currency.
Wheel of Fortune: Cubed doesn't quite have the "just one more go" fast-paced mentality of other word games, mostly because it lacks mobile friendly features, such as skipping the timer ahead when the player really just hasn't got a clue of the answer, but it's still worth a look.