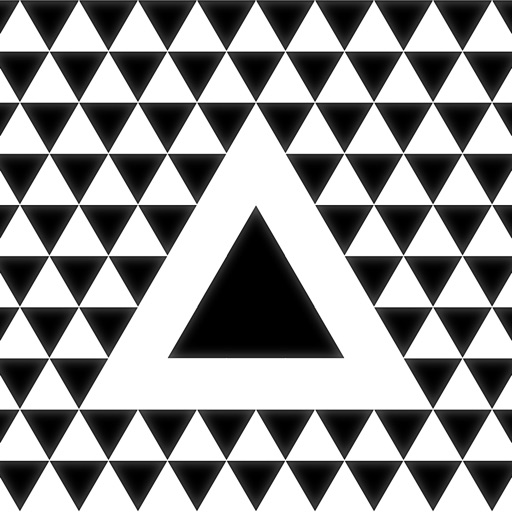 iPad App
FREE!
Rating:
:: TRIANGLE TROUBLES
Triangle Draw is a drawing app for the iPad that lets users create logos, patterns and typography with (you guessed it) triangles.
Developer:
opcoders.com
Price: $2.99
Version: 1.1
App Reviewed on: iPad 2
iPad Integration
Rating:
User Interface
Rating:
Re-use / Replay Value
Rating:
Overall Rating:
Drawing apps let users make an unlimited amount of creative designs, but most require some sort of artistic talent. Developers of 
Triangle Draw
hoped to solve this problem by making an easy-to-use drawing application for both the newbie and skilled artist alike. While
Triangle Draw
falls short at making incredibly awesome designs, it is a neat drawing tool that isn't just a clone of another popular app.
Triangle Draw is different from other drawing apps because it only lets users create images using triangles. Solely using triangles gives users the ability to create interesting hexagonal shapes, logos and patterns without the need for artistic skill. Instead, the app focuses on creativity and ingenuity.
Once users open Triangle Draw on their iPad, they can immediately begin creating images. Touching on the New Drawing button opens a blank canvas. Tapping on the screen creates one triangle, and touching on that triangle erases it from the screen. Users can also drag their finger across the screen to create interesting shapes and lines.
Everything users draw on the canvas is also displayed in two symmetry areas on the screen, which helps budding artists get an idea of what their artwork looks like when split in half around an axis. Interestingly enough, users can flip the X and Y axis and even invert the black and white colors. Finished drawings may then be saved to the app or exported via Email or Camera Roll.
Triangle Draw doesn't come without flaws, which hold it back from being a superb drawing tool. For example, the graphics are not impressive and look fuzzy. While the developers may have been aiming for a retro look, most users want a high quality app when they are shelling out $2.99. Also, the app only comes with two boring colors: black and white. The addition of more colors would open up a realm of creative possibilities. The last feature that this app lacks is the option to share images via social networks like Facebook, Twitter and Flickr.
I really wanted to love this app due to its ingenious interface, but the flaws outweighed the positives. With a few adjustments to the app, the developers could potentially have a drawing app to compete with the growing number of others in the App Store. If users dig the retro style and wish to create geometrical drawings and logos, this may be the perfect app for them. Triangle Draw apparently is not for everyone, but it does have potential for artists of all types.