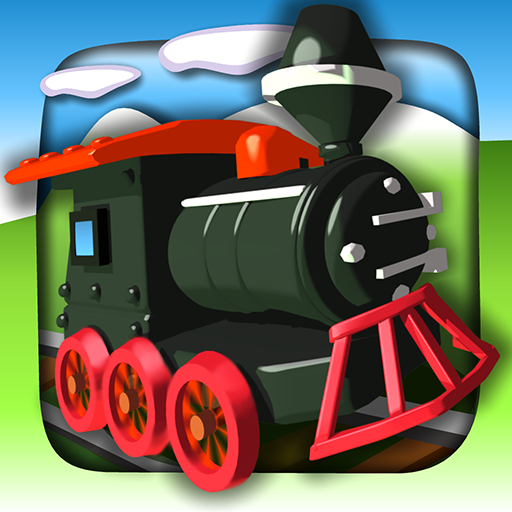 iPhone App
$0.99
Rating:
:: Chugga-Chugga-Woo-Woo
Traintiles brings puzzles to the trainyard.
Developer:
Mobitreos
Price: $0.99
Version: 1.4
App Reviewed on: iPhone 4S
Graphics/Sound
Rating:
User Interface
Rating:
Gameplay
Rating:
Re-use / Replay value
Rating:
Overall Rating:
I spent a small part of my childhood hunting for Intercities, Sprinters and other assorted locomotives. Some might even call my 6 year old self a bit of a train spotter. While that fad died very quickly, (I grew bored of Thomas the Tank Engine as soon as the Turtles came to town!) I maintained a soft spot in my heart for 'choo-choos.' At least for a little while longer.
Unfortunately, that affection wasn't reinvigorated playing newly released Traintiles.
In Traintiles, players are tasked with adjusting train track segments so that the right colored train docks at its designated station. This requires players to twist corners and make lengthway paths so that there is one easy route from its tunnel of origin. The situation gets more complicated, however, when several trains appear on the play-space. Suddenly, the player is in a race against time to structure the maze of tracks in different ways (sometimes using the same track another train has just ridden across) so that all vehicles have safe passage.
Traintiles is a fiendish puzzle game that really gets the brain-wheels turning. This makes for a refreshing change as many iOS games would have the player simply switch off
when immersing themselves in the action. However, Traintiles wants players to pay very close attention to what's going on, be fast at planning out and executing their strategies, and staying at least three steps ahead of the little engine that could. Should the player break any of these three golden rules, the train will skid off the tracks; derailed and engulfed in plumes of smoke.
Completing objectives successfully will fill the player with a semblance of satisfaction. It's just a shame that there isn't much more to the gaming experience than that. The smile on the player's face soon fades once they head onto the next level; frantically tapping their screens and tearing their hair out trying to work out what they need to do. This remains a common theme through Traintiles 45 levels and sadly, the game never breaks this cycle. Even though some levels require a deeper thought process than others, enthusiasm will gradually depreciate the deeper into the game the player gets.
Traintiles is unique and fits well on the iOS platform, but it's not a title that stands out from the midst of a star-studded line up. The sad reality is, despite unique gameplay and an impressive difficulty set, Traintiles quickly runs out of steam, and soon feels shallow and empty. My 6 year old self weeps openly in disappointment.