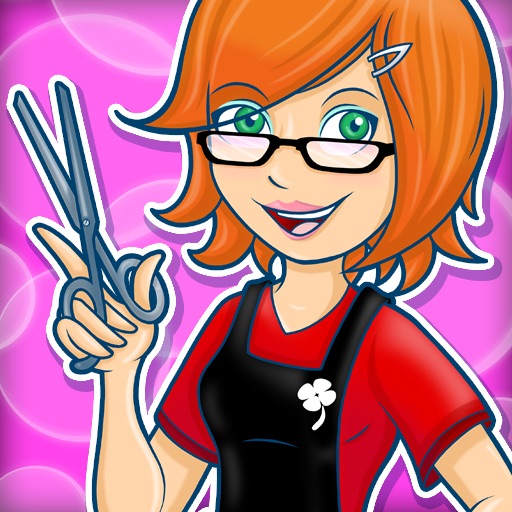 iPhone App
$2.99
Rating:
:: FUN
This is fun to play and will entertain you. There is also a survival mode so you can play forever(ish).
Developer:
Real Arcade
Price: $0.99
Version Reviewed: 1.1.5
Graphics / Sound [rating:5/5]
Game Controls [rating:3/5]
Gameplay [rating:4/5]
Re-use / Replay Value [rating:3/5]
Overall Rating:
Sally's Salon is a time management game that is very fun to play. However, if you have Sally's Spa, (developed by Games Cafe Ltd.) then you may find it less of a gem. It's still a good game on its own merit, and at $0.99 its worth it.
The premise and gameplay is really quite simple. As Sally the hairdresser, salon owner, you have a variety of clients that want different things done, and you have to try to serve as many as possible, not mess up what they want, and of course collect their cash for their hair styles. Throughout, the simplicity of the game makes you really want to compulsively collect more and more money in the salon (or was it just me?).
The graphics are bright and well designed, and the music works well too. The game is pretty standard for the genre in most ways; you can play through all the levels and have goals to reach. One odd gameplay feature is that when you click on the customer, it sends them to where they need to be. There is slightly less involvement in the game because of this, because you can click on three of the customers and just leave it for a bit while Sally gets on with her job.
Once a level is complete, you get to see the shop. Here you can buy and upgrade things for your salon. There is a uniform, or different chairs, as well as employees you can hire. You can go pretty long without upgrading though, and just make a nice little stock pile of cash for yourself.
Some things that are not great about this is that in survival mode the screen is just too big. Not being able to see all your customers at once, and see who's waiting for what is a real drawback. You have to scroll across which actually drove me a little loopy.
Also in the levels mode, it gets a bit 'samey'. This could be because I did play Sally's Spa first. I think if you have played that game, then you probably not enjoy this game so much. It really feels like a first version of a game that is far more polished as Sally's Spa.
[youtube gpG6AqXlX80]
Overall, it is a good game, especially for the price. However, if you have played Spa, then I don't think this will hold your interest. So if you plan on getting Spa, do yourself a favor and get this first so you will love it and have twice as much fun.