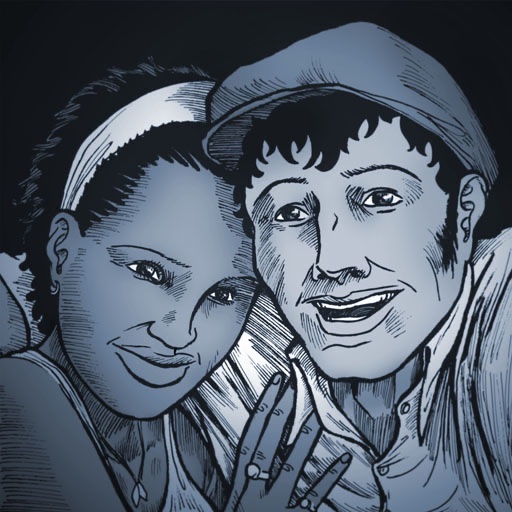 iPhone App
$0.99
Rating:
:: HIGHLY RECOMMENDED
Ruben & Lullaby is a fascinating and unique game. It's design is wonderful and filled with fantastic animated graphics and beautiful sounds.
Developer:
Erik Loyer
Price: $2.99
Version Reviewed: 1.0
Graphics / Sound [rating:5/5]
Game Controls [rating:5/5]
Gameplay [rating:4/5]
Re-use / Replay Value [rating:2/5]
Overall Rating:
Update 2009-02-03: The developer, Erik Loyer, wrote us to let us know that even though it's not 100% apparent, there are actually 5 possible outcomes to the game. Ruben leaves, Lullaby leaves, they hug, they keep talking (sad), and they keep talking (smiling).
Ruben & Lullaby could be described as an art game. Also could be described as an amusing, interactive art piece. As short as it is, and as limited as the replayability is, it's still a delight to play.
The story is that Ruben & Lullaby are young lovers who have just had their first fight. By your actions in guiding them through this argument, you can either break them up or patch things up. You have three main, simple controls -- tilt the phone quickly to switch between the two characters. Shake the phone while touching the screen to make the current character mad. Stroke the screen to make them sad / remorseful.
The audio in this game is quite spectacular -- it's well timed and dynamic to the actions you do. Make sure you have the sound turned up.
Really, this game is not one that you will play over and over. After all there are only 2 possible outcomes. But it is spectacularly well done from the sounds, the artwork, to the unique and wonderful design.
[youtube TgFlkbCbCg8]
The developer of this app, Erik Loyer has an interesting portfolio of artistic creations. Check out his site for more. If you enjoy unique games, give this one a try. I'm betting you've never tried anything like it before.
Also note that Ruben & Lullaby is a finalist in the 2nd Mobile Independent Games Festival. Great honors for a great game.