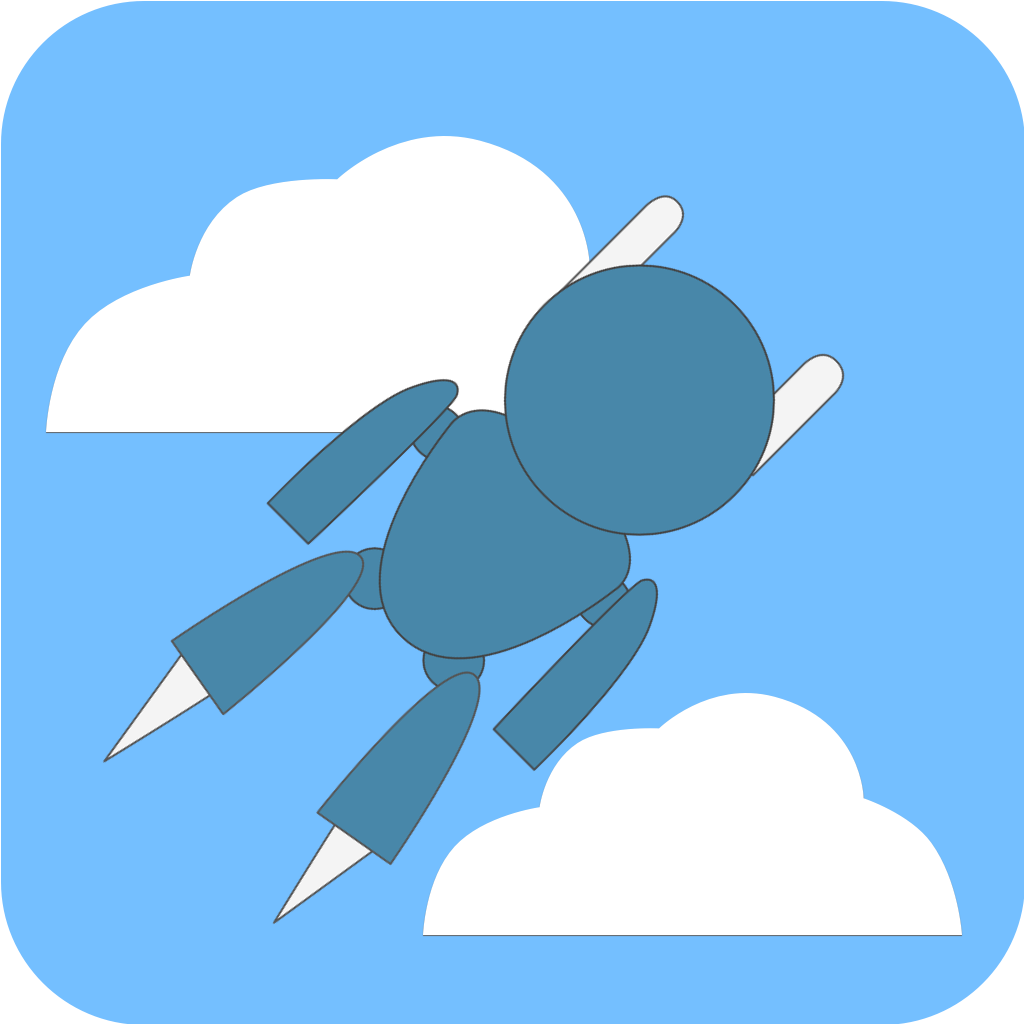 + Universal App
FREE!
Rating:
:: SOARING SENSATIONALLY
ROD is a simple robot with incredible abilities. We take them for a spin and like what we see.
Developer:
PearHaven
Price: Free
Version: 1.1
App Reviewed on: iPhone 4S
Graphics/Sound
Rating:
User Interface
Rating:
Gameplay
Rating:
Re-use/Replay Value
Rating:
Overall Rating:
Robots are the future. At least, that's what we're all told. They can do anything humans can and more, from the most laborious tasks to the most taxing. They can even do things humans would find impossible. That's where ROD, the Robot On Duty, comes in. This advanced artificial intelligence has been created to defend a floating city, creatively known as Skyville. ROD had been doing a fantastic job, just floating around in the sky, surveying the scene and keeping a watchful eye on any that might cause a problem.
Then suddenly the bad bots came, and disrupted the perfect harmony the city had enjoyed. They knocked Skyville's inhabitants and buildings off the floating island,and allowed gravity to have its wicked way with them all. From farmyards, to city hall, and chickens to citizens, ROD suddenly has his work cut out for him.
The game has two different modes. The Robot on Duty mode tasks players with advancing through challenging missions. Each mission requires players to place parachutes on inhabitants or buildings, and sometimes inhabitants and buildings as they plummet through the sky. Players must direct ROD into the inhabitant or building in peril, and the robot will automatically place a parachute on them, ensuring their safe landing. How they get back to Skyville isn't relevant at this point, all ROD cares about is preserving the integrity and lifestyle of his home.
There's also Rescue Race which sees ROD racing against the clock, and tasks players with saving as many falling objects as possible before the time runs out.
ROD is controlled by two buttons. One is a virtual joystick, steered with the player's finger or thumb, and the other a boost button which is supposedly controlled by finger-tapping. Except, tapping doesn't actually work. Players will actually have to hold the virtual button down to boost. Tapping just seems to create temporary air-spasms and involuntary jolts and isn't especially useful.
It's absolutely necessary to boost to meet most objectives. Players will only have a limited time frame to accomplish all goals in a level, and so holding your finger on boost will be second-nature.

The game is difficult, but a lot of that is down to how it's controlled. It's actually a very addictive fun game, though admittedly, the control scheme could use work. There's no way to adjust the output, and the virtual analog lacks dexterity and has a tendency to stick to the player's thumb or finger. There's also no sound.
Still, ROD is a unique, entertaining effort. One I'd highly recommend everyone try at least once.