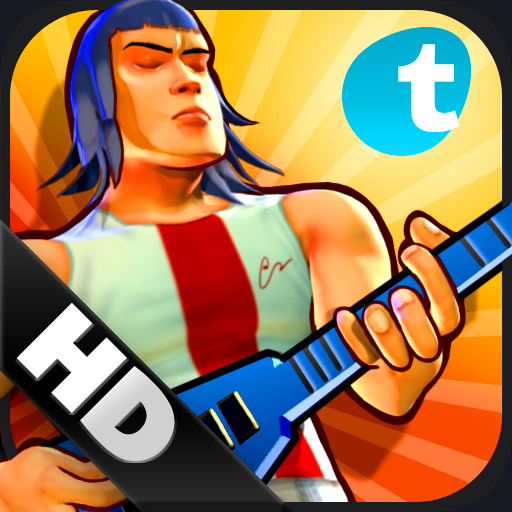 iPad App
$1.99
Rating:
:: A Moshing Pit of Pleasure
Your rockstar potential unleashed in glam outfits and sparkling guitars
Developer:
Entertainment is My Life B.V.
Price: $1.99 
Version Reviewed: 1.0
Device Reviewed On: iPad
Graphics / Sound
Rating:
Game Controls
Rating:
Gameplay
Rating:
Replay Value
Rating:
Overall Rating:
Wannabe rockers have existed since the beginning of time. Okay, so maybe the first images we have of these glam archetypes include really rad togas and killer leather Gladiator sandals. Men who play rock music are both inherently ugly and inherently sexy. Who would date Mick Jagger if he weren't a Rolling Stone? The distinctive yet unmusical sound of his voice is repulsive AND attractive. If he wore a toga, Helen of Troy would come on to him bearing a scanty sheath of sheer fabric, her head adorned with a beautiful smelling crown of lush green leaves.
Who doesn't want to Rise To Fame? Who doesn't want to Rise to Fame in HD? I ask myself this question and take on this unique challenge. RiseToFameHD is promising and also delivers on its promise. The animation is stylized and graphic. It has a fluidity that glides across the screen. This languid animation strikes me in the same way an indie graphic novel pulls me in. The subtle intrigue does not disappoint.
RiseToFameHD is priced at $1.99. I don't get much play without shelling out for a new wardrobe, tinny cymbals, and other accoutrements. After a bit of initial trouble entering the meat of the app due to being prompted to register my email, I find the play satisfying. The comicky dialogue is no-nonsense. In the mosh pit, I have a decent view of the band, and although the band and song are unknown, I luxuriate in sound-alike REM strumming. The music is mellow and mixed well. I leisurely press my finger to my iPad screen and watch the crowd interact with the guitar player. Lightning bolts blast from his electric instrument while he jams.
Like I would render critical any stylized look, I do take issue with the over-anatomizing of the female figures in the mosh pit. This is stereotypical to comics in particular, but, c'mon, most women don't want to play a game where the ONLY females represented bear the weight of torpedo sized and shaped chests. They look so constructed, they are comical, not comic. Even women with massive breast implants can recognize the absurdity of these conical, jugular water balloons.
And people wonder why male gamers get such a bad rap, complete with undying jokes about living in their mother's basements. Sure, to be fair, the male figures in RiseToFameHD have abnormally large barrel torsos, but still. . .
RiseToFameHD is like Guitar Hero. RiseToFameHD doesn't integrate the work of recognizable musicians, and it provides no microphone for singing a Red Hot Chili Peppers song poorly and comes without a faux drum set for drunkenly accompanying a tone deaf lead singer/roommate. This alone sort of kills the party atmosphere of group, frat boy fun, but the animation is slick, the music is lively, and the interactive features are good fun.