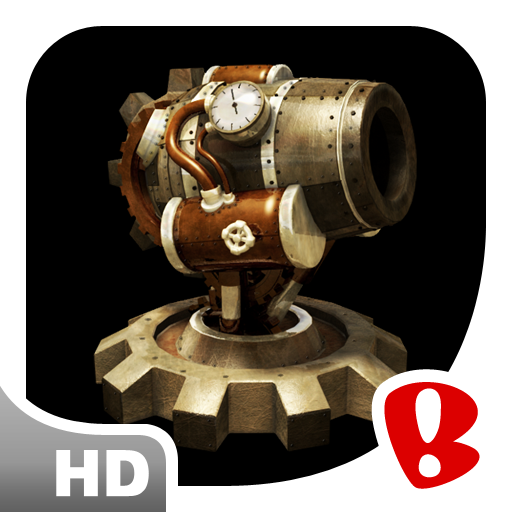 iPad App
$4.99
Rating:
:: REPEATING BLASTER
Had enough of irate avians? Try firing some ragdolls across a bleak steampunk landscape.
Developer:
Backflip Studios
Price: $4.99
Version Reviewed: 1.01
Device Reviewed On: iPad
Graphics / Sound
Rating:
Game Controls
Rating:
Gameplay
Rating:
Replay Value
Rating:
Overall Rating:
Physics-based games on the iPhone and iPad are nothing new, but the recent ascendence of Angry Birds has clearly shown that such games can be financially profitable. Thus, a spate of Angry Birds clones has flooded the market with less-than-stellar physics-based gameplay. Fortunately, games like Ragdoll Blaster 2 HD for the iPad raise the bar in terms of graphical and user interface presentation, even if the gameplay is not as difficult as it could be.
If you've never played any incarnation of Ragdoll Blaster, well, the name pretty much says it all. You blast ragdolls at targets - a lot of ragdolls, at a lot of targets. It's a simple gameplay exercise, but one that is well executed. It certainly won't win any awards for originality or even complexity (I've found the puzzles in Angry Birds to be much more challenging), but you will find the game interesting to look at and always at least moderately challenging.
The puzzles vary in complexity, but the game does a good job with its tutorial rounds. All of the basic gameplay functions are well-covered, even though the tutorials can lead you to the conclusion that the game will be a cakewalk. It isn't. Unlike Angry Birds, there isn't one simple launching platform at a stationary location. Sometimes a round may include multiple launching points and a variety of other devices/obstacles that can keep you from hitting the target with your ragdoll. Oh, and there are no pigs to laugh at you if you mess up (decide for yourself if you think this is a good thing or a bad one).
The sound effects and music are both outstanding. The music is lightly orchestral and fits the overall spirit of the game. Likewise, the sound effects add to the atmosphere of the game without becoming needlessly distracting. Across the board, Ragdoll Blaster 2 HD has exceptional production value.
The graphics in Ragdoll Blaster 2 HD are pretty, though dark - an odd combination of steampunk and gothic influences that doesn't always seem to fit the lightweight whimsy of the game itself. The look of the game certainly distinguishes it from the flashy, garish colors of its main competitor, but it at times seems incongruous with the spirit of cheeky fun.
If you like physics-based puzzlers, this is yet another solid game to pick up, though the iPad version packs a fairly premium price of $4.99 (the same price as Angry Birds HD, but honestly this is not as good a game). But if you're indifferent to this sort of game, or you've simply played enough levels of Angry Birds to last a lifetime, you won't find much to interest you here.