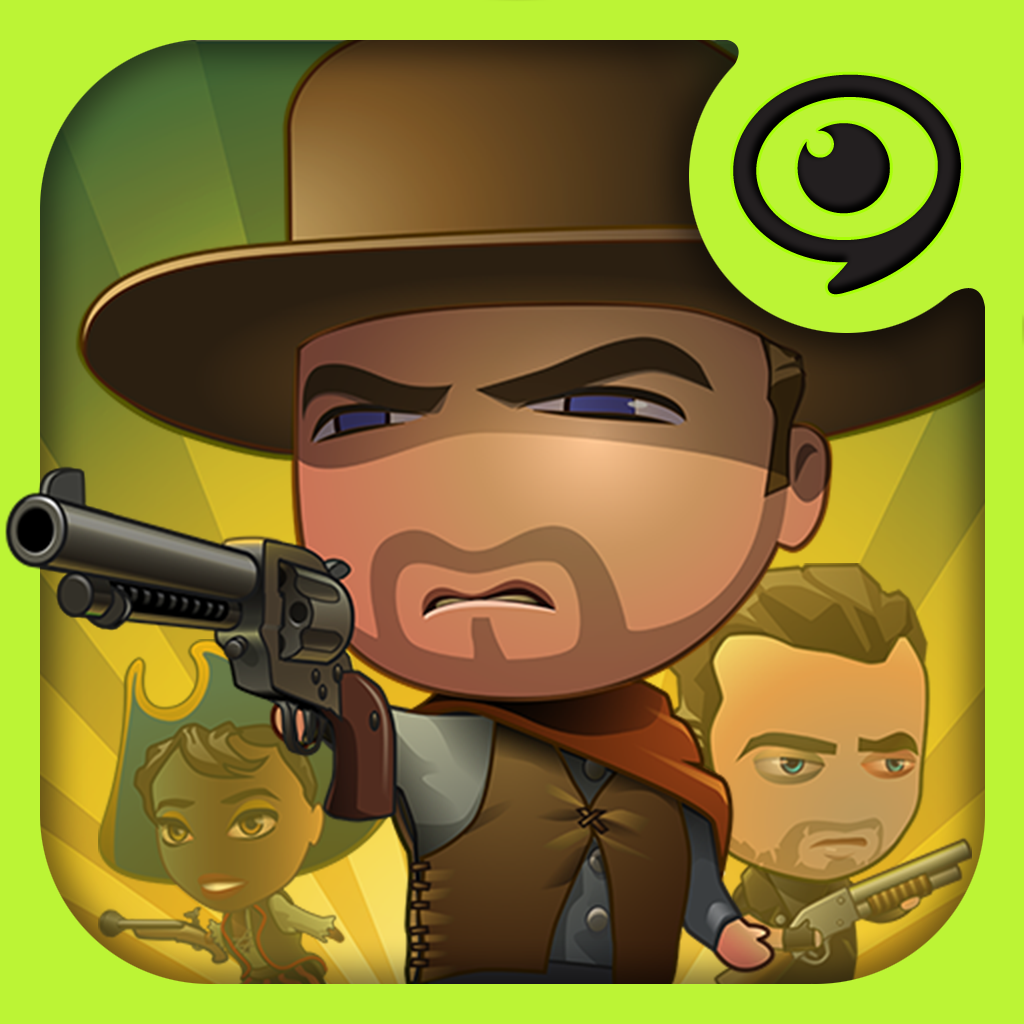 + Universal App
FREE!
Rating:
:: SOULLESS GUNSLINGING
Briefly entertaining, shoot-em-up Pocket Gunfighters fails to hook for any great length of time.
Developer:
Gamevil
Price: FREE
Version Reviewed: 1.0.2
Device Reviewed On: iPhone 5
Graphics / Sound
Rating:
Gameplay
Rating:
Playtime
Rating:
Replay Value
Rating:
Overall Rating:
Fairly heavy on the in-app purchases, Pocket Gunfighters is a briefly fun if ultimately quite shallow shoot-em-up experience. It's the kind of game that one will find themselves dropping into for a little while, then gradually watch as they play it less and less in favor of a stronger title.
Players control a string of gunfighters as they travel through time in order to defeat various villains in their way. It's a simple concept because the focus is placed squarely on shooting anything that moves, as well as collecting up gunfighters for different purposes.
Each level is laid out like a gun game of the past, with a string of enemies popping up on screen just waiting to be shot at. Shooting is different depending on the type of fighter or gun used. The shotgun, for instance, is just a matter of tapping on screen but it's best used in the middle of a group, given its widespread. The pistol can be used by swiping across a trail of enemies in order to take them all out at once. It's possible to dodge bullets and explosives flung one's way too, with a well timed swipe. At times though, this interferes with shooting and I found the game sometimes shooting or dodging when the opposite response was desired. Once a gunslinger is defeated in battle players then have to wait 30 minutes for them to recharge, which is pretty irritating after a time.
As the levels change, progress is mostly dictated through the acquisition of new gunslingers and new skills. It's possible to upgrade their stats too, for better performance. In each case though, everything feels heavily weighted towards progressing faster by buying some relevant in-app purchases. At regular junctures,
Pocket Gunfighters
is keen to point out what can be bought and why.
Ultimately, that's the main issue with Pocket Gunfighters. While it is briefly fun, it's all quite lightweight and there's that steady reminder that the game really wants one to pay up to progress. Combined with its sometimes finicky controls, it's not so attractive as it seemed right at the beginning.