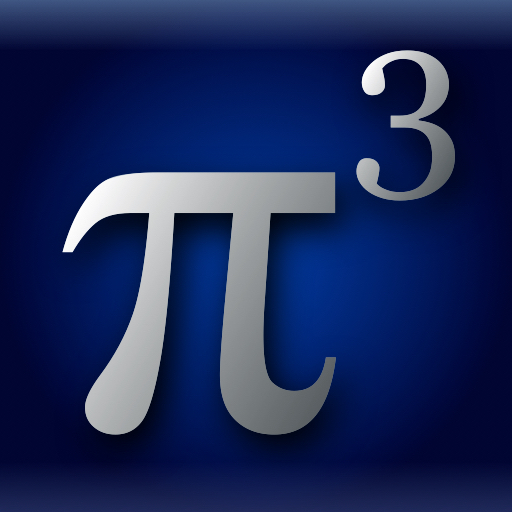 + Universal App
$9.99
Rating:
:: INNOVATIVE
Pi Cubed isn't really a calculator; it's much better! The chalkboard-style interface is conducive to building equations, and it easily beats out other scientific calculators. Just don't expect it to replace your graphing calculator.
Developer:
Sunset Lake Software
Price: $9.99
Version Reviewed: 1.1
iPhone Integration
Rating:
User Interface
Rating:
Functionality
Rating:
Re-use / Replay Value
Rating:
Overall Rating:

The built-in calculator for the iPhone is great, sure, but...let's be honest. Even with its scientific functions, any serious math or science student knows that it won't be replacing their TI-83 any time soon. Third-party apps, meanwhile, always seem to be a bit too cluttered.
Pi Cubed is another attempt at a calculator application, and thankfully, it does some things very well. It's by no means perfect, and I experienced some instability, but it's still a good replacement for a scientific calculator and a decent complement to a TI-83.
The first thing you'll notice upon opening Pi Cubed is its interface. Gone are traditional line-by-line displays that spit out unintelligible strings of data in mimicry of real-world calculators. Instead, Pi Cubed opts for an easier to read, intuitive interface that can best be likened to a chalkboard. Equations are displayed in their full form, and you can pinch and zoom to focus on part or another.
Initially, you begin with a blank box on the left, an equals sign, and a question mark on the right. Tapping the box allows you to enter items, and this is where the genius of Pi Cubed is revealed. Mathematical items are sorted into categories: numbers (0-9, a negative sign, and a decimal point), operations (addition, subtraction, etc.), exponents (roots, exponents, logarithms, etc.) and so on. Using these items, you can visually build equations on the screen. Being able to see equations as you build them is a huge boon, and it makes even complex equations easy to transfer to the app.
One of the best features of Pi Cubed is the ability to set variables. When you click on the category marked "x," it gives you the options of "x," pi, and "e." (e, of course, is the mathematical constant.) When you select "x," Pi Cubed inserts an x into the equation.
However, if you tap the edit button (a pencil-like icon), you can change the variable to any character on your keyboard and add annotations to it.
Furthermore, if you later add another variable with the same "name" (i.e., another "n" if your first variable was an "n"), they will be linked. You can tap on one of them, replace it with a numerical value, and the other will update accordingly. You can also do some funny things with this; I used an Emoji as a variable!
Problems.
While Pi Cubed can do a lot, it isn't perfect just yet. I've encountered numerous crashes, usually after I've been fumbling frantically to undo a mistake. When Pi Cubed crashes, it resets to the last time you opened it; if you were working on a new equation, it's likely gone. It's annoying to say the least. I recommend "saving" from time to time; hitting the home button essentially freezes the app's state and should protect you from crashes.
Also, using Pi Cubed isn't always intuitive. While there's ample in-app documentation available, actually using the app isn't always easy. For example, when I select the addition operation, an addition sign with a new, empty box is appended to my equation. However, this new box isn't auto selected, and if you type something, it affects the old selection. So, if I were to hit "3; addition sign; 2" I would get "2 + __ = ?"
This is something that would be extremely easy to fix, and I hope that the dev at least provides us with that option! Also, it would be helpful if I could drag a box around a portion of an equation to select it. While the current selection method is fairly functional, it could still use some work. And lastly, here's one of my pet peeves: a setting located in the Settings app. In order to change from Radians to Degrees, or vice versa, you have to go into Settings.app. That's just plain annoying!
I've mentioned the chalkboard-like style of Pi Cubed many times, but there's one thing missing that would make it a true chalkboard: the ability to write. Yes, I realize that the iPhone doesn't have a stylus. Shush. How about the ability to add annotations wherever I want? A little icon in the corner that could be dragged down to add a simple, typed annotation is all that I'd need, and it would really be helpful for jotting down notes about problems.
All in all, though, Pi Cubed is a handy little application. For the same price, you could buy your own bulky scientific calculator at Rite Aid, but I like the interface and the equations database. The ability to create your own specialized equations is a real boon, and it can even be used as a reference guide. Pi Cubed won't be replacing your TI-89 or even a TI-83, but it's still a useful alternative to the built-in scientific calculator. And it has one thing on conventional calculators: an active developer. Updates continue to add more equations to the built-in library as well as other updates, so Pi Cubed should become even better as time goes on!