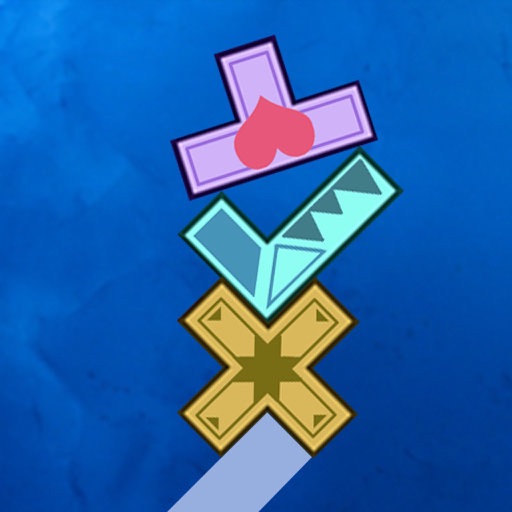 iPhone App
$0.99
Rating:
:: Classic Physics Puzzle
Perfect Balance: Harmony is a polished physics puzzler and a port from the flash hit. The puzzles aren't overly difficult, but it's still a good game.
Developer:
ttursas
Price: $0.99
Version Reviewed: 1.0
Graphics / Sound [rating:3.5/5]
Game Controls [rating:4/5]
Gameplay [rating:4/5]
Replay Value [rating:2.5/5]
Challenge [rating:3/5]
Overall Rating:
Let me start by saying that Perfect Balance: Harmony is one sadistic game.
"TAKE A DEEP BREATH. (It will help you to relax.)"
Relax? Relax?? Yeah, sure, right. Let me relax while I watch my carefully planned solution tumble down in a cascade of miserable shapes. Let me relax while I watch myself fail again...and again...and again.
[img id="img_00017-200x300.png"]That being said, I'm more than happy to submit myself to the whims of this wicked balancing game. Perfect Balance initially looks a lot like Topple—create a balanced block structure that won't tumble down. But while Topple puts an emphasis on timed games, Perfect Balance is really a physics-based puzzle.
Each stage begins with a handful of blocks suspended over a dotted line. Below the line is the playing field with a platform hanging in the air. (Later levels have multiple platforms; they can be any shape or size, forcing creative solutions.) In order to pass a level, you have to drag the blocks from above the dotted line into the playing field below, creating a "perfect balance" using the platforms; you can also rotate the blocks by tapping. If a block falls, you lose! Once you place all of the blocks on the field, the game waits until they're in "perfect harmony" (i.e., not moving).
It's that last bit which is often the sticker. See, Perfect Balance: Harmony uses an incredible physics engine, so you have to account for gravity, friction, momentum...the works. It's this use of physics which makes Perfect Balance shine in comparison to other games of a similar vein; no other game would ask you to create a makeshift platform by balancing, say, a triangular block on a circular platform and sticking a plank on top of another circular platform so that the two falling items keep each other from tumbling off-screen. You really have to think these puzzles through.

There are eighty original puzzles included in Perfect Balance, and I'm on number 38 myself. While the game is a port of a popular flash game by the same title, the levels are new. Still, if you've played the flash version, you'll be comfortable with some of the strategies you need in order to succeed here.
The game, while ingenious, isn't completely perfect. You can't skip a puzzle if you get stuck, which will frustrate some folks. While I understand that this encourages people to keep playing a game, it might have been nice if the developers had taken an approach somewhat similar to Ancient Frog, where finishing a level unlocks several others. (Even having two open levels at a time would be great!) And while I think the difficulty level is just fine, others will be annoyed by it. Another problem is that you can apply similar strategies to many of the levels, making the gameplay eventually predictable. If you've played the flash version, you'll find this one very simple.
But despite those concerns, Perfect Balance is a polished title, and at an initial price of $0.99, there's no reason for fans of physics puzzles not to grab it. (To give you an idea of the game's mainstream appeal, the devs at ttursas claim that the flash version has been played by 5 million gamers, and there are even walkthroughs available on YouTube!) You can play the flash version for free or try out the lite version if you want to get a taste for the game's style.