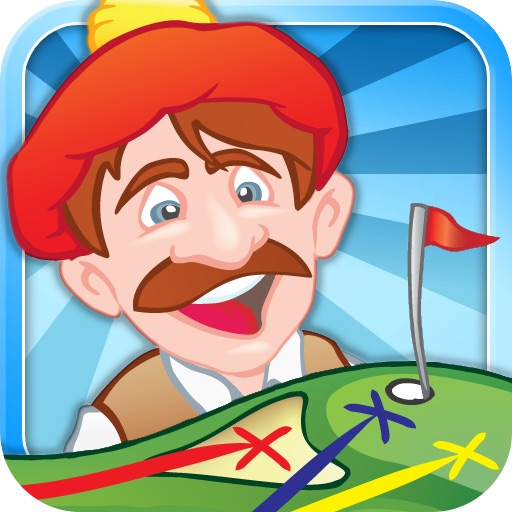 + Universal App
$0.99
Rating:
:: AWESOME DRIVE
A unique take on a aging genre that still manages to maintain the charm and appeal of the original subject matter.
Developer:
Endless Wave Software
Price: $1.99
Version: 1.0
App Reviewed on: iPhone 4
Graphics / Sound
Rating:
Game Controls
Rating:
Gameplay
Rating:
Replay Value
Rating:
Overall Rating:
Golf is one of those sports that has been around for ages and has fans in all walks of life.  There is no better reflection of this than the wide breadth of different varieties of golf games that exist.  You can find traditional simulations, arcade games, and a cornucopia of other interpretations of the sport, and that is just what is available on the iOS alone!  Par Out Golf is the embodiment of this grab bag genre, yet still finds a way to still make the game entertaining, which is a feat in and of itself given all of the competition on the platform.
Calling Par Out Golf an actual golf title doesn't really do the game justice, because it is also part puzzle and hand-eye coordination test  as well.  When a player would normally be teeing off in a traditional golf game, you are instead checking out the surroundings of the course from a top-down perspective that the player actually remains in at all times.  Upon tapping the ball to begin your shot, the screen is quite literally clouded so that players can no longer see the course below them.  At this point the player then carefully slides their finger across the course in a manner similar to a game like flight control, while attempting to dodge any of the earlier observed obstacles and landing their finger in or around the actual flag itself.  Also, it should be noted that there is no reason to worry about the normal flight of a golf ball, because you could have it do more zigzags in the air then a fighter jet and it will spit in the face of the laws of physics.
Once your finger has lifted from the screen, the course uncloaks itself and then you get to see how your shot plays out.  It is interesting to see how the wind plays tricks with the ball's trajectory in certain ways, making what could otherwise be simple shots quite difficult.  Further confounding the short game is the fact that it is impossible to tell with any amount of precision where a shot is ending due to your finger actually obscuring the view.  This unfortunately makes putting far more difficult than it really needs to be.
The core gameplay of Par Out Golf is quite fun and offers more challenge than you might actually expect.  The cartoon inspired visuals also compound the charm tenfold, while the game is true to the sport by instilling elation one moment, followed soon thereafter by the burning hatred and frustration of a thousand suns.  With a fully featured multiplayer through GameCenter and unlockable courses to boot, this game is more than worth the $1.99 price of admission.


[gallery]