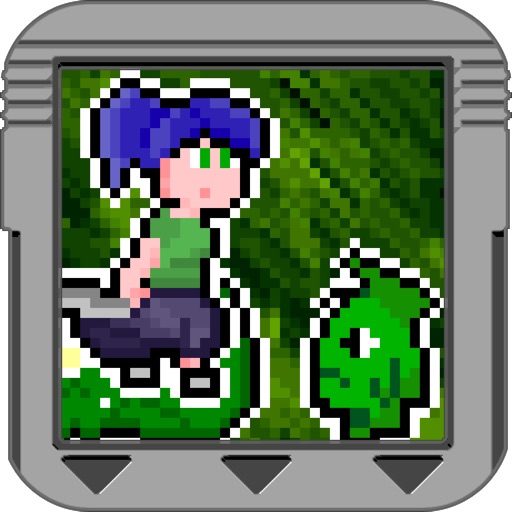 + Universal App
$1.99
Rating:
:: HOWL AT THE MOON
Mystery of the Japanese Werewolf is a Metroidvania-style platformer with retro graphics and goofy humor.
Developer:
Daniel Martins Novais
Price: $0.99
Version Reviewed: 1.8
Device Reviewed On: iPad 2, iPod touch 4
Graphics / Sound
Rating:
Game Controls
Rating:
Gameplay
Rating:
Replay Value
Rating:
Overall Rating:
Mystery of the Japanese Werewolf
 is a game of
Metroidvania
style of open world platforming, that isn't afraid to put a few touchscreen elements in there. The story involves a tyrannosaurus rex from space who needs help getting rid of an intruder who has sabotaged his spaceship. So, a random blue-haired woman with a sword goes to help him out because 
why not
.
The ship is laid out with several different environments that wind up criss-crossing with each other, so there's not just one forest section, and one underwater section, but perhaps a forest section with a space section in-between at points. The goal is to go through and collect abilities, including a double-jump and the ability to destroy certain colored blocks on the screen by tapping on them, before reaching the ship's control center. It's more of a bite-sized Metroidvania experience with a sudden ending than a full-fledged game, though we are talking about this being on a mobile OS.
The game does a great job at feeling modern while still being very retro. The graphics are all 8-bit inspired, with an optional scanline effect. The music is largely the same theme, that is played in different ways depending on which part of the ship the player is in. Using the heroine's shirt color to represent her health is a touch of genius. The t-rex and heroine have witty and occasionally meta-referential banter throughout the game, with the t-rex despairing when she dies, but then realizing that she's respawned, and trying to pretend that he was yelling about something else.
The game is a universal app, and it supports iCloud saves between devices. In particular, one save slot is iCloud-enabled specifically. While it's not possible to copy to or from this slot, it at least works perfectly. The game is also compatible with the iCade, including the new
iCade Mobile
, and is a perfect fit with the iCade, giving the game just a perfect retro feel. It's like playing a lost Game Boy classic on the iCade Mobile in particular.
Repetition with Mystery of the Japanese Werewolf is pretty much the only issue. The witty meta-referential lines start to get old after they're repeated. The new abilities wind up just being the same as the old ones, just with the ability to destroy new blocks. Even the boss enemy recurs with similar ways to defeat him.
Of course, the game is still just a $0.99 platformer created by one person, and while its tricks wear out their welcome, the game's inventive elements and retro-style fun are well worth experiencing.