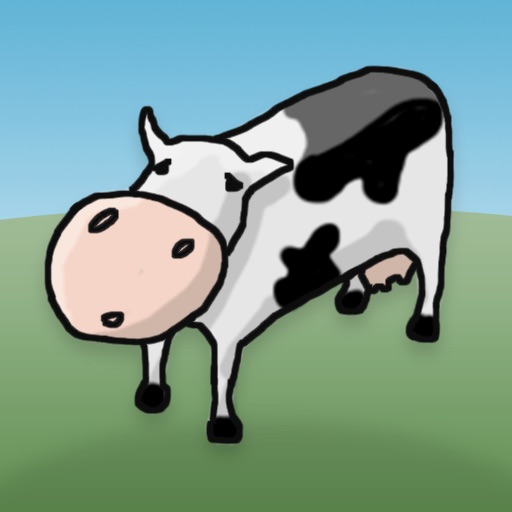 + Universal App
$0.99
Rating:
:: MOOOOOO
Moovin Up is a funny puzzle game with some challenging levels involving cows.
Developer:
Tiny Crab Studios
Price: $0.99
Version Reviewed: 1.0
Device Reviewed On: iPad (third generation)
Graphics / Sound
Rating:
Game Controls
Rating:
Gameplay
Rating:
Replay Value
Rating:
Overall Rating:
Moovin Up
is a puzzle game where the player moves cows about tiled levels. While I loved the difficulty and silly theme of the game, I had some problems that kept me from having a positive experience.
Gameplay is simple for a puzzle game, but the puzzles themselves were not. The goal of a puzzle is to get the cows to eat all of the grass. Cows move like chess rooks (no diagonals), but they cannot stop. The cow moves until it hits a barrier like a wall or another cow. Since the game counts amount of moves made, the puzzles all have a replay value for players that want to go back and do a puzzle in the least amount of moves.
Some of the puzzles were particularly challenging. For a growing fan of puzzle games, I was quite happy with the difficulty of just the "hard" levels. The "very hard" levels are, unsurprisingly, even harder. The added elements in the harder puzzles, like the mushrooms and breakable dirt, made them more challenging and less boring than the grass and stairs-only puzzles. The mushrooms put the cows to sleep while cracked dirt tiles disappear after they're moved over once.
I was immediately annoyed at the orientation of the game. Some games simply decide not to use the accelerometer to change the orientation of the game based on how the user is holding it. Frequently, this means that the default orientation is with the home button on the right. This poses a particular problem on the iPad because, for users that like to keep their iPads propped up with the Smart Cover, the orientation ends up being upside down. So I had to hold the iPad instead of prop it up like I prefer.
The controls were far from good. I often found myself moving the screen around instead of the cow I tapped on. It was a frustrating experience. About 30% of the time I meant to tap on a cow and move it, but the screen moved instead.
The music is incredibly repetitive and I turned it off in the options within ten minutes of playing the game. It's amazing how little thought goes into the soundtrack for iOS games. As a future tip to developers, don't put one track on a short loop. It gets annoying and repetitive quickly. Either use a variety of songs or a much longer song loop.
Moovin Up is a challenging puzzle game with a humorous theme. But the controls add frustration to what could be a great puzzle experience.
[gallery="thumbnail"]