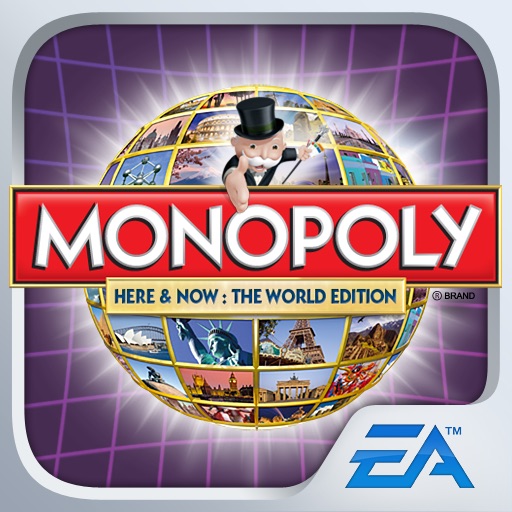 iPhone App
$0.99
Rating:
:: RECOMMENDED
MONOPOLY Here & Now: The World Edition includes updated properties which are far more expensive than those in the classic game. It takes some getting used to not having Boardwalk and Ventura, for example, but Instanbul and London serve as suitable substit
Developer:
Electronic Arts
Price: $4.99
Version Reviewed: 1.2
Graphics / Sound [rating:5]
Game Controls [rating:4]
Gameplay [rating:4]
iPhone Integration [rating:4]
User Interface [rating:3]
Re-use / Replay Value [rating:4]
Overall Rating:
MONOPOLY Here & Now: The World Edition is an updated version of the classic board game. Instead of roadways like Boardwalk and Ventura, for example, here you'll find cities like Istanbul and London. And instead of everything being relatively inexpensive they are all now all worth hundreds of thousands and millions of dollars.
While those changes may be a little jarring to anyone used to the original, everyone will appreciate this full featured iPhone game that loads quickly, looks great, and generally plays great. It includes game modes for one player, multiple players by passing the iPhone around, as well as wifi multi-play (on the same router).
When starting a single player game you can choose from one to three artificial intelligence (AI) opponents, the play piece each player uses, the difficulty level of your opponents, as well as house rules. House rules includes such things as what happens when you land on the Free Parking square and how much landing on Go pays. You can also choose where the board is set up, from a kitchen table to out on the patio.
The game loads very quickly, as do saved games, which means you can pick up and play it anywhere. Actual game play is also streamlined, and although by default you have to shake your iPhone to roll the dice, you can turn that off so you auto-roll, which makes the game move even faster. An in-game tutorial system walks you through most of the options, and each screen you interact with has introductory tutorials.
Most options take only a tap or two, and even mortgaging your properties can be streamlined to a single tap. You can tap the board to zoom in on it, which shows you several spaces at a time, and then swipe a single finger to uncover more of the board. The game provides all of the original's functionality, including trading and selling properties, holding a card to get out of jail free, and more.
There are a few things that hamper game play, such as on-screen buttons that are very small. It's quite easy to tap the board, zooming in on it, for example, instead of rolling the dice. While the game offers online play using wifi, it all has to be on the same router, which means unless you are in the same house or office, you are out of luck.
The game also automatically auctions off any city a player lands on and doesn't buy, which seems like a way to unbalance game play. The reason for this is because if a city normally sells for 1.2M, for example, and you land on it and decide not to buy it, or more importantly, can't afford it, it goes up for auction. Let's say all you have is 300K but an opponent can afford 500K, they can buy it for that amount. While you weren't allowed to buy it for less than 1.2M, they can, which means you are less likely to pass on a city unless you absolutely have to.
While MONOPOLY Here & Now: The World Edition isn't a perfect game, if you loved the original, you will find a lot to like here. Not only does it load and play quickly, but it packs in all of the classic Monopoly game play with few omissions. Although the auto-auction feature seems like a misstep, and in-game buttons are a little small for folks with bigger fingers, the game is very customizable and is very enjoyable.